This page is sponsored by Lou Parrotta

"In honor of Gary's appreciated work!"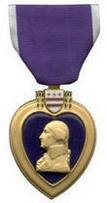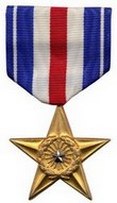 Pete Petropoulos
Date and Place of Birth: February 20, 1915 Queens, New York
Died: December 1, 1996 Atlanta, Georgia
Baseball Experience: Minor League
Position: Pitcher
Rank: Staff Sergeant
Military Unit: Company D, 22nd Infantry Regiment, 4th Infantry Division, US Army
Area Served: European Theater of Operations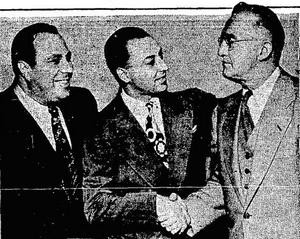 Pete Petropoulis (center) with Frankie Frisch (right)
Peter J "Pete" Petropoulos was born in Queens, New York, on February 20, 1915.
The left-handed hurler was a batting practice pitcher with the Brooklyn Dodgers in 1938. He signed a professional contract in 1939 and was assigned to the Daytona Beach Islanders of the Class D Florida State League, where he posted a 10-9 won-loss record. In 1940, Petropoulos was with the Fort Lauderdale Tarpons of the Class D Florida East Coast. He had a 7-4 record as a pitcher and also played first base and the outfield.
On March 6, 1941, Petropoulos was drafted and entered military service with the Army. He was based at Camp Gordon, Georgia and pitched for the 1st Battalion baseball team. On June 8, 1941, Petropoulos threw a 4-0 no-hitter for the 22nd Infantry Regiment team against the 20th Engineers at Fort Benning, Georgia. During the winter Petropoulos, who had played professional basketball in the American Basketball League, coached the basketball team.
In January 1944, Staff Sergeant Petropoulos left the safety of the United States and arrived in England as part of the D-Day invasion build-up with the 22nd Infantry Regiment, 4th Infantry Division.
On June 6, the 4th Infantry Division landed at Utah Beach in Normandy, France. On June 7, Petropoulos was badly wounded by an exploding enemy artillery shell. He suffered severe leg wounds and was picked up by German troops the following day, being held prisoner without food or medical aid in Montebourg, France. Eleven days later, on June 19, Petropoulos was repatriated when Allied troops overran Montebourg.
Petropoulos was shipped back to the United States with a Silver Star and Purple Heart. He was sent to Rhoads General Hospital in Utica, New York, where it was feared he might have to have both legs amputated. Seven major operations followed and the former ball player's legs were saved.
Although he would never be able to play professional baseball again, an injury to his hand could have resulted in him being a more effective hurler than before the war. A medical report by Doctor John J O'Bell of Rhoads General Hospital orthopaedic section read: "The sergeant cannot play professional baseball again, due to compound fractures in the upper thigh bones, which, while healing entirely, may leave a slight stiffness. However, he can pitch as well as ever, and it is likely he may pitch better than before, because the second metacarpal of the left hand, also injured by shrapnel, will have a new formation in healing that will make possible a better curve. It is reasonable to expect that he can make a fine coach or instructor in physical education."
| | |
| --- | --- |
| | |
| Staff Sergeant Pete Petropoulos with Ernie Harwell in a 1947 Chesterfield advertisement | An advertisement from The Sporting News, April 4, 1951, for Pete Petropoulos' agency |
After Petropoulos left hospital he went to work for the New York Giants as a scout, and in 1948 he became a goodwill ambassador to servicemen and veterans, conducting The Sporting News Sports Caravan, which, in conjunction with Liggett & Myers the makers of Chesterfield cigarettes, visited veterans' hospitals in the New York metropolitan area. "I know from my long years of association with Pete Petropoulos," David Woodside told The Sporting News, "that he can talk the language of any vet either in or out of a hospital."
This tour was later expanded to take in veterans' hospitals in southern states, and Petropoulos also managed the Chesterfield-Sporting News (later Chesterfield Satisfiers) baseball team that played at veterans' hospitals for the next 12 years.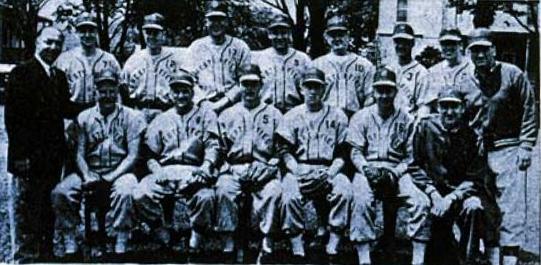 Chesterfield Satisfiers in 1958 (Petropoulos is standing on left)
By 1950, Petropoulos was running Greater New York Sports Promotions, an agency booking events for baseball and basketball teams, including his own professional basketball team – the Long Island Bombers. In 1955, The Sporting News gave him his own column – Sounding Off with Pete Petropoulos – in which Petropoulos gave his views on all major sports.
Pete Petropoulos passed away on December 1, 1996 in Atlanta, Georgia, aged 81. He is buried at Arlington Memorial Park in Atlanta.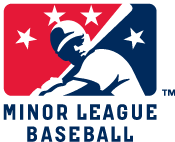 Created May 20, 2007. Updated June 22, 2007.
Copyright © 2007 Gary Bedingfield (Baseball in Wartime). All Rights Reserved.