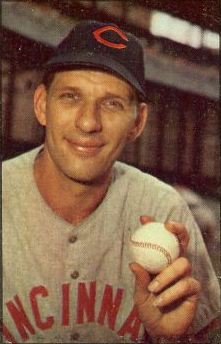 Harry W Perkowski was born on September 6, 1922 in Dante, Virginia. He was playing semi-pro ball around his hometown and pitched briefly for Natchez of the Evangeline League before getting drafted and joining the Navy in 1943.
Perkowski served in the amphibious force and helped escort troops and tanks during invasions on Landing Craft Tanks (LCTs). He served 19 months in the Atlantic and 11 months in the Paciific, making four invasions at Africa, Sicily, Italy and Normandy. "I was all over the place just about," he later recalled.
He signed with the Cincinnati Reds in 1946 and had an outstanding year with Ogden of the Pioneer League, posting a 23-6 won-loss record and 2.09 ERA. In 1947 he was 17-12 with Columbia of the South Atlantic League and joined the Reds in September. Perkowski made his major league debut on September 13 and pitched in three games before the season ended.
He spent 1948 with Tulsa of the Texas League hurling his second 20-victory season in the minors (22-10) and was 14-12 with Syracuse of the International League in 1949. Perkowski joined the Reds again in 1950 and remained with the team for five years. His best years were 1952 and 1953 when he was 12-10 and 12-11 respectively.
The Reds traded Perkowski to the Cubs at the end of 1954 and he made 25 appearances for the Cubs in 1955 then returned to the minors in 1956. He continued to pitch in the minors until 1960, spending time with Los Angeles, Tulsa, Memphis, Fort Worth and Denver.