Go on, why not sponsor this page for $5.00 and have your own message appear in this space.


Click here for details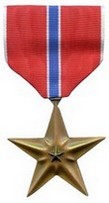 Billy Parish
Date and Place of Birth: November 2, 1921 Kelly, Texas
Died: October 12, 2007 Celina, Texas
Baseball Experience: Minor League
Position: Third Base/Outfield
Rank: Pharmacist's Mate Second Class (PHM2c)
Military Unit: I Company, 21st Marines, Third Marine Division, US Marine Corps
Area Served: Pacific Theater of Operations
Billy Parish was born on the family farm on November 2, 1921 at Kelly, in rural northeast Texas. "We had no electricity and no running water when I was growing up," recalled Billy in his memoirs many years later. "We would draw water out of our well and use a sled to pull it to the house by horses."

His parents lost their farm in the Great Depression in 1930, and the family moved to Cole Springs, Texas, and then to Van Alstyne, Texas, where Billy attended high school. Billy played baseball and football in high school and batted over .400 as the team's shortstop. After graduating from high school in 1939, he attended aeronautical and mechanical school in Dallas, while playing semi-pro baseball for the Van Alstyne Grays as a third baseman. Despite being a small-town team, the Grays had produced a number of major league players including White Sox hurler John Whitehead, Browns first baseman Guy Sturdy, Athletics pitcher Sam Gray and Browns pitcher Monty Stratton, whose career ended prematurely when a hunting accident in 1938 forced doctors to amputate his right leg.

In October 1941, Roy Largent, a scout for the Chicago Cubs, signed Parish for $125 a month and assigned him to the Lake Charles Skippers of the Evangeline League in Louisiana for 1942. However, military service intervened and Billy never got to play a game at Lake Charles. In 1942, instead of pulling on his baseball flannels he went to boot camp with the Navy in San Diego, California. He was then drafted by the Marines and sent to Medical Corps School and assigned to sick officers' quarters where they were bringing in the wounded from Guadalcanal.

In October 1943, Billy went to the Pacific with the 21st Marine Regiment of the Third Marine Diviaion as a Pharmacist's Mate Second Class (PHM2c). He trained at Guadalcanal after the island was recaptured by Allied forces and was aboard USS McKean (APD-5) bound for Bougainville on November 17, 1943, when a Japanese torpedo struck the starboard side of the destroyer. Billy was one of 44 men in a life raft that was eventually picked up by another destroyer. Of the 185 Marines who embarked on the McKean, 52 died.

Billy was at Bougainville in November 1943, an island full of swamps, impenetrable jungles, crocodile infested rivers, millions of insects and 40,000 Japanese. He suffered shrapnel wounds while helping a comrade who had been badly wounded.

In July 1944, Billy was among the first assault troops to land on Guam. One night in the face of enemy gunfire, he dragged the wounded Captain Thomas W. Brown to safety. For his heroics he was awarded the Bronze Star by Major General Graves B. Erskine.

After the Japanese were defeated on Guam in August 1944, the Third Marine Division set-up camp on the island, and Billy had the opportunity to play baseball and softball. In 13 games he hit 12 home runs and was selected to play for the Third Marine Division all-star baseball team. The Third Marine Division All-Stars played a series of exhibition games, and even traveled by air to neighboring islands for games against the Second Marine Division.


Third Marine Division All-Stars 1944
| | | |
| --- | --- | --- |
| Pfc Robert J Schang | HQ Battalion | Catcher |
| Pfc Stanley R Bazan | 21st Marines | Catcher |
| Cpl James E Hedgecock | HQ Battalion | Pitcher |
| Pfc Edmond J Beaumier | 3rd Marines | Pitcher |
| HA1c William W Connelly | 3rd Medical Battalion | Pitcher |
| | HQ Battalion | Pitcher |
| GySgt Edwin Burgess | 12th Marines | First Base |
| Cpl Louis J Griener | 3rd Marines | Second Base |
| Cpl Chester Pietras | HQ Battalion | Shortstop |
| | HQ Battalion | Third Base |
| Sgt Edward Ellavsky | HQ Battalion | Utility Infielder |
| Cpl George B Cooper | 12th Marines | Left Field |
| Sgt Steve Johnson | 3rd Eng Battalion | Center Field |
| PhM2c Billy R Parish | 21st Marines | Center Field |
| Cpl Henry C Meyer | 9th Marines | Right Field |
| Pfc James Turner | HQ Battalion | Trainer |
| Col Lyman Passmore | Div Paymaster | Manager |
| Capt Arthur Manush | Asst A&M Officer | Coach |
| Capt Edward Gorman | 12th Marines | Coach |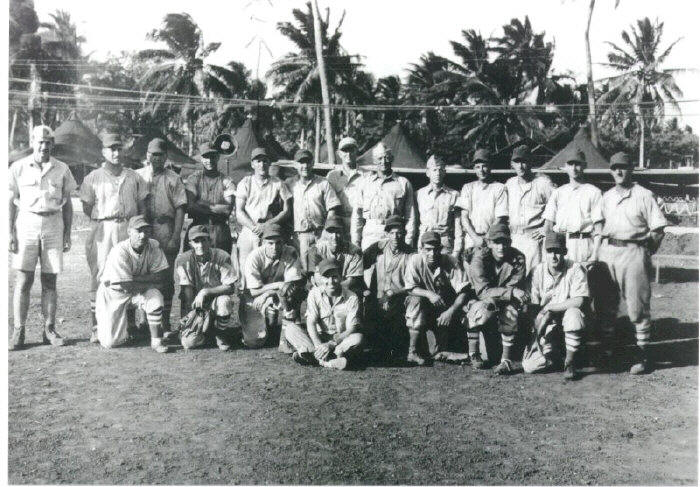 Third Marine Division All-Stars on Guam in 1944
Billy Parish is back row, third from left
In February 1945, Billy packed away his ball glove and left the relative safety of Guam bound for Iwo Jima with the Third Division. Iwo Jima, 750 miles south of Tokyo, is the middle island of the three tiny specks of the Volcano Islands. Five miles long with Mount Suribachi at the southern tip, the island was about as inhospitable as could possibly be imagined. The sulfur-reeking chunk of rock was scattered with steep and broken gullies that cut across the surface and were covered by scraggy vegetation and a fine layer of black volcanic ash.

The Japanese had no doubt about the importance of Iwo Jima - one of their last outer defenses shielding the home islands - and were determined to keep control. With a garrison of around 22,000 under the control of Lieutenant-General Tadamichi Kuribayashi, the Japanese took advantage of the island's natural features and turned it into a fortress of underground tunnels and defensive bunkers, riddled with concrete pillboxes, machine-gun pits, trenches and mortar sites. A three-day US Navy bombardment barely caused a scratch and the Marines met fanatical resistance when they hit the beaches. Fifty per cent of Billy's company were killed at Iwo Jima, and Jimmy Trimble, Third Division All Star team pitcher, who had been signed by the Washington Senators before military service, lost his life in a savage attack by Japanese soldiers.

Billy Parish came home from the war to his high school sweetheart, Ellouise, and a two-and-a-half year-old daughter, Diane, whom he had never seen. He went to work for the Texas Power and Light Company in Sherman, Texas, but was soon transferred to Celina, Texas, where he and Ellouise reared their three daughters.

Billy played baseball for a few years with his company team and loved the New York Yankees. While living in Celina, he organized the first Celina Quarterback Club in 1954 and was their first president. He was a Mason and a member of the 1st Baptist Church of Celina. In 1981, the Texas Power and Light Company awarded him a special commendation for using CPR to save a two-year-old boy who had been accidentally run over by his grandmother.

Billy Parish was like most men of that generation. He did his job for his country, came home and lived his life while rarely talking about the war. When he was 80 years old, his daughter, Diane, and granddaughter, Kristi, talked him into several video taped interviews where, nearly 60 years later, he finally opened up about his war experiences.

Billy spent the last few months of his life at the Settler's Ridge Nursing Center in Celina, Texas. On the bulletin board in his room he had a copy of the biography I had written about him for the Baseball in Wartime website, and loved showing it off to his friends who came by to visit.

Billy Parish passed away on October 12, 2007. He was 85 years old. "My sisters and I still miss the old Marine with the dimples," says Diane.

Read the Billy Parish Baseball in Wartime blog entry


Special thanks to Billy Parish's daughter, Diane Tolleson, for the information contained in this biography.
Created January 8, 2007. Updated February 7, 2010.
Copyright © 2010 Gary Bedingfield (Baseball in Wartime). All Rights Reserved.