Don Padgett
Date and Place of Birth: December 5, 1911 Caroleen, North Carolina
Died: December 9, 1980 High Point, North Carolina
Baseball Experience: Major League
Position: Outfield/Catcher
Rank: Coxswain
Military Unit: US Navy
Area Served: Pacific Theater of Operations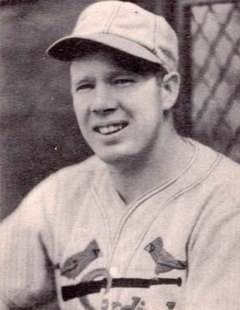 Don W Padgett was born on December 5, 1911 in Caroleen, North Carolina. As a freshman in 1934, he attended Lenoir-Rhyne College in Hickory, North Carolina, where he excelled in baseball, football and basketball. Padgett signed with the St Louis Cardinals' organization in 1935.
After playing with Columbus in his rookie season, he was with Houston in 1936. The left-handed hitting outfielder made his major league debut with the Cardinals in 1937, playing 123 regular season games and batting an impressive .314 with 74 RBIs. In 1938 his average dipped to .271 but he came back with an incredible .399 batting average in 92 games in 1939 while adjusting from being an outfielder to a catcher. Padgett's average nose dived to .242 in 1940 and he was back in the outfield for 1941, producing a .247 average.
On December 10, 1941, the Cardinals sold Padgett to the Dodgers for $25,000. But on March 28, 1942, Padgett left Brooklyn's training camp to report to his home draft board for induction into the Army. On April 1, 1942 he chose instead to enlist in the Navy and was sworn in as coxswain. Allowed to go home to Caroleen to settle his business affairs, he reported to Great Lakes Naval Training Station on April 14. Because he never played a game for the Dodgers they tried to get out of the deal but Commissioner Landis ruled that Padgett be placed on the Dodgers' National Defense List and that they pay the required $25,000 to the Cardinals.
On July 7, 1942, Padgett was selected for an All-Service team that played against an American League all-star squad at Cleveland's Municipal Stadium. Before 62,059 fans, the American League beat the servicemen, 5-0. Padgett's main contribution to the game was a screeching single to left field in the first inning but he was left stranded on base.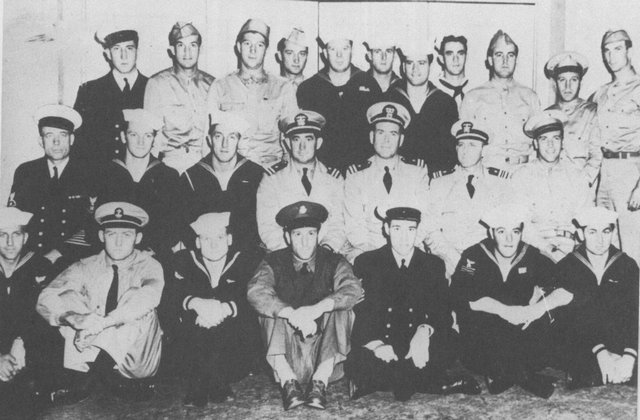 All-Service team that played at Griffith Stadium July 1942. Padgett is back row, fifth from left.
Padgett was with Norfolk Naval Training Station (75-25) in 1943. The formidable line-up included Dom DiMaggio, Phil Rizzuto and Walt Masterson, and they finished the season with a 68-22 won-loss record. On May 24, 1945, the Norfolk team beat the Senators, 4-3, in a War Bond exhibition game.
By August 1944, Padgett was coaching a US Navy team in Australia. One of their biggest contests was against the region's Army champions - the Far East Air Force Service Command. Despite Charlie Wagner hurling a five-hitter, the Navy lost 1-0.
Padgett was released from military service on January 10, 1946. He was 34 years old and had missed four seasons. Immediately, there was talk that the Dodgers would trade him, and after playing 19 regular season games he was sold to the Boston Braves in June. He played 44 games for Boston, batted .255, and was traded to the Phillies for Andy Karl early in 1947.
Padgett had two seasons with the Phillies as a back-up catcher. He was released at the end of 1948 and played for the Oakland Oaks in the Pacific Coast League.
Don Padgett passed away on December 9, 1980 at High Point, North Carolina. He was 69 years old.
Thanks to Burl McCuiston, Reference Librarian at Lenoir-Rhyne College Library for help with this biography.
Created February 24, 2007. Updated March 19, 2007.
Copyright © 2007 Gary Bedingfield (Baseball in Wartime). All Rights Reserved.