Joe Ostrowski
Date and Place of Birth: November 15, 1916 West Wyoming, Pennsylvania
Died: January 3, 2003 Wilkes-Barre, Pennsylvania
Baseball Experience: Major League
Position: Pitcher
Rank: Corporal
Military Unit: USAAF
Area Served: Mediterranean Theater of Operations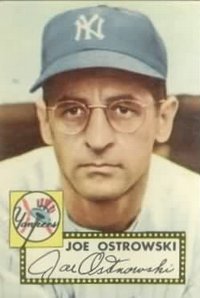 Joseph P "Joe" Ostrowski was born on November 15, 1916 in West Wyoming, Pennsylvania. He was a 1934 graduate of West Wyoming High School and received a bachelor of arts degree in 1938 from the University of Scranton.
Ostrowski was signed by the Boston Red Sox in 1941, playing in the Eastern Shore, Mid-Atlantic and Piedmont Leagues. In 1942 he was with the Louisville Colonels and remained there until entering military service in June 1943
Corporal Ostrowski served with the Army Air Force as a medic and was assigned to a fighter group in Italy in 1944.
"Joe Ostrowski returned to the mound recently after an absence of 22 months," explained The Sporting News on October 5, 1944, "and proved that the layoff didn't dim his effectiveness. In his first game, a seven-inning affair, he hurled his squadron to a 6 to 2 victory and did not allow a man to reach first until one was out in the last inning. He struck out 11, allowed two hits and two unearned runs. He turned in a 5 to 1 five-hitter in his next appearance, striking out 15. two days later, in a relief role, Ostrowski fanned the only three men to face him."
Ostrowski returned to the Louisville Colonels in 1946 and helped them clinch the American Association title.
The following year the Red Sox traded him to the St Louis Browns. He made his major league debut with the Browns on July 18, 1948. Ostrowski made 26 appearances that year for a 4-6 won-loss record and 5.97 ERA.
He was traded to the Yankees in July 1950 and had his best season in the majors in 1951, with a 6-4 record and 3.49 ERA in 34 appearances as a relief pitcher. He also made his only post-season appearance that year. Ostrowski pitched two relief innings against the New York Giants on October 6 at the Polo Grounds.
Ostrowski was 35 years old when he made 20 relief appearances for the Yankees in 1952, in what proved to be his final season in the majors. He pitched for the Los Angels Angels of the Pacific Coast League in 1953 and then retired from baseball.
Ostrowski returned home to West Wyoming, Pennsylvania, where he worked as a teacher for the West Wyoming and Wyoming Area school districts. He retired from teaching in 1978.
Joe Ostrowski was inducted into the Pennsylvania Sports Hall of Fame in 1988. He passed away at the Wilkes-Barre General Hospital on January 3, 2003, aged 86.
Created June 11, 2007.
Copyright © 2007 Gary Bedingfield (Baseball in Wartime). All Rights Reserved.