Those Who Died That Others Might Be Free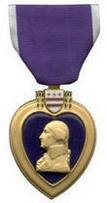 Harry O'Neill

Date and Place of Birth: May 8, 1917 Philadelphia, Pennsylvania
Date and Place of Death: March 6, 1945 Iwo Jima
Baseball Experience: Major League
Position: Catcher
Rank: First Lieutenant
Military Unit: 25th Marines, Fourth Marine Division USMC
Area Served: Pacific Theater of Operations
In 1939, Harry O'Neill appeared in just one game for the Philadelphia Athletics, but he would go down in history as one of only two major league players to be killed in World War II.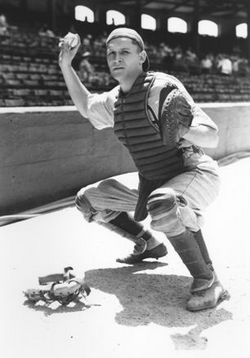 Harry M O'Neill was born in Philadelphia on May 8, 1917. He was a standout athlete at Darby High School, Pennsylvania and progressed to Malvern Prep School before entering Gettysburg College - a private four-year liberal arts institution where he studied history. At Darby High he played guard on the team that won the Kiwanis basketball tournament and was on the All-Kiwanis team selected by the Chester Times newspaper. He also was all-county center on the football team. At Gettysburg he was a three-sport star playing center on the basketball and football teams and catcher with the baseball nine.
Under coach Hen Bream, O'Neill's solid play and sure-footed kicking helped the Gettysburg Bullets to the Eastern Pennsylvania Intercollegiate football championship in 1938. "Harry O'Neill ... gave the old grads high blood pressure when he calmly booted a 39-yard field goal on the last play before halftime," wrote a local newspaper about Gettysburg's 16-8 win over Franklin & Marshall in October 1938.
He also led the basketball team to championships in 1937 and 1938. "Harry O'Neill proved to be the spearhead of the Orange and Blue offensive throughout the year," noted the 1939 Gettysburg College yearbook. "The lanky Bullet center set the season scoring mark at twenty points in one game and captured third place among the individual players of the East Penn circuit."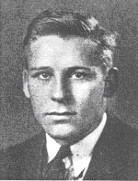 In baseball, he helped coach Ira Plank (brother of former major leaguer Eddie Plank) capture the 1938 Eastern Pennsylvania Intercollegiate baseball title. "Porky O'Neill reached the status of a hero here today," claimed a local paper on May 4, 1938, "when his single in the ninth inning drove one run home and enabled the Gettysburg Bullets to nose out a stubborn Nittany Lion in nine grueling innings 5-4."

The 6-foot-3, 205-pound youngster was a much sought after athlete and rumors that he would sign with the Washington Senators were common-place in early 1939. Instead, O'Neill signed with Connie Mack's Philadelphia Athletics immediately after his graduation on June 5, 1939 for $200 a month. He spent the rest of the year with Philadelphia as their third-string catcher, and made his only major league appearance on July 23, 1939 as a late-inning defensive replacement for Frankie Hayes against the Tigers.

In 1940, O'Neill was assigned to the Allentown Wings of the Interstate League, and then in July he joined the Harrisburg Senators of the same league, playing 16 games and batting .238. He also worked as history teacher and three-sport coach at Upper Darby Junior High School in Pennsylvania, continuing his football playing with the Delco All-Stars.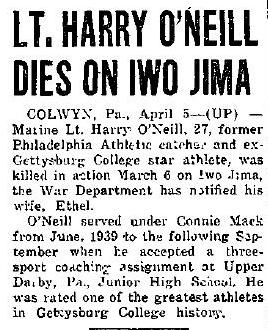 Chester (PA) Times, April 7, 1945
The following year Harry O'Neill was in military service with the United States Marine Corps. In January 1944, with the Fourth Marine Division, he was promoted to first lieutenant at Camp Pendleton, California, and shipped out for the Pacific Theater.
O'Neill and the Fourth Marine Division made major amphibious assaults at Kwajalein, Saipan and Tinian. By February 1945, he was on his way to Iwo Jima to help secure the island for use as a base for long-range fighters to escort bombers on their missions to Japan.

Iwo Jima, 750 miles south of Tokyo, is the middle island of the three tiny specks of the Volcano Islands. Five miles long with Mount Suribachi at the southern tip, the island is honeycombed with excoriated volcanic vents. Hundreds of natural caves communicate with deep sulphur-exuding tunnels. Steep and broken gulleys cut across the surface, ragged sea cliffs surround it. Only to the south is there level sand, but it is fine, shifting, black pumice dust making the beaches like quicksand and rendering it impossible to dig a fox-hole when in need of cover.
The island was riddled with pillboxes, gun-pits, trenches and mortar sites and a three-day naval bombardment beginning on February 16 was intended to rid the island of much of its defense. But despite its enormity the bombardment had minimal effect and US forces met fanatical resistance when they hit the beaches on February 19.

On March 6, 1945 – as American troops moved inland - First Lieutenant Harry O'Neill was killed. It was a month before his wife, Ethel McKay O'Neill, received news of his death from the Navy Department.
"We are trying to keep our courage up, as Harry would want us to do," wrote his sister, Suzanna, in a letter to Gettysburg College shortly after his death. "But our hearts are very sad and as the days go on it seems to be getting worse. Harry was always so full of life, that it seems hard to think he is gone."

In 1980, Harry O'Neill was inducted in the Hall of Athletic Honor at Gettysburg College for baseball, football and basketball.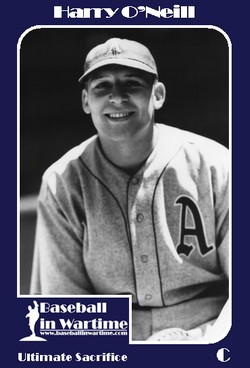 Added July 14, 2006. Updated November 4, 2008.
Copyright © 2011 Gary Bedingfield (Baseball in Wartime). All Rights Reserved.