Go on, why not sponsor this page for $5.00 and have your own message appear in this space.


Click here for details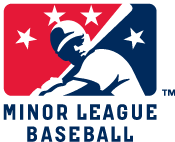 Walt Novick
Position: Catcher
Born: East Walpole, MA Sept 15, 1919
Died: Naples, Florida, March 29, 1989
Military Service: US Army (ETO)
Walt Novick was enjoying a successful minor league career when he was called into service at the end of the 1941 season. The 5-feet-9 catcher broke into professional baseball with Alexandria in the Evangeline League in 1939, where he hit .235 in 108 games. The following year he was with New Iberia in the same league and hit .242 with 83 RBIs. In 1941, Novick batted .266 with New Iberia and earned a late-season stint with Shreveport in the Texas League.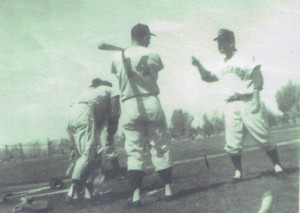 Walt Novick (on right) with Duke Sims at Cleveland Spring Training 1964
Novick served with the 29th Infantry Division during WWII and was stationed in England in 1943 and 1944. Corporal Novick was discharged in August 1945 and despite having missed four complete seasons of professional baseball, he decided to continue to pursue a career in the game. In 1946 he made a brief appearance with Louisville in the American Association and Utica in the Eastern League before settling down at Lancaster in the Inter-State League. Novick hit .325 in 98 games with Lancaster in 1947 and then headed to the Western League for a two-year stint with Lincoln.

"In 1949 I was at Walpole High," recalls former Boston Red Sox manager, Joe Morgan. "Walter would bring us real Louisville Slugger bats from his minor league team. That sure was a treat in those days."
In 1950, Novick was with Buffalo of the International League where he played 83 games behind the plate and batted .247. Novick was still Buffalo in 1951, raising his average to .263 over 59 games. In 1952, the 32-year-old catcher found himself at various minor league teams as his playing days and hopes of making to the majors as a catcher began to fade. Novick was the player-manager with Yakima of the Western International League in 1953 and adopted the same role with Superior in the Northern League for the next two years, during which time he not only managed and played behind the plate but also made appearances at third base and on the mound.
Novick continued to manage in the minors until 1964 with stints at Wausau and Minot in the Northern League, and Dubuque in the Midwest League.

After baseball, Novick worked at several golf courses in Massachusetts and retired to Naples, Florida. He passed in 1989, aged 69.
Walt Novick Photo Gallery

(courtesy of MaryAnn Novick)

Walpole High School (Walt is front row, first left)
New Iberia Cardinals (Walt is back row, third left)
Lincoln Athletics 1949 (Walt is front row, first on right)
Buffalo Bisons 1950 (Walt is middle row, second left)
Walt is on the right

Walt with the Indians

Walt with the military
Thanks to Joe Morgan for help with this biography. Thanks to MaryAnn Novick for sharing her memories and photos of her father, and allowing me to create this wonderful photo gallery.
Created January 3, 2007.
Copyright © 2007 Gary Bedingfield (Baseball in Wartime). All Rights Reserved.