Ernie Nevers
Date and Place of Birth: Willow River, Minnesota June 11, 1902
Died: May 3, 1976 San Rafael, California
Baseball Experience: Major League
Position: Pitcher
Rank: Major
Military Unit: US Marine Corps
Area Served: Pacific Theater of Operations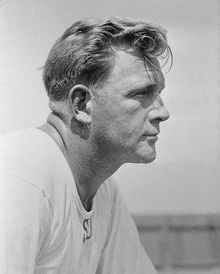 Ernest A "Ernie" Nevers was born on June 11, 1902 in
Willow River
,
Minnesota
, and attended
Superior
Central
High School
in
Superior
,
Wisconsin
, and
Santa Rosa
High School
in
Santa Rosa, California
.
He later attended Stanford University where he established himself as one of the greatest all-round athletes of all time. He was a discuss thrower on the track squad and played outfield and pitcher on the baseball team. But it was as a football player that Nevers excelled and earned all-America honors twice. Nevers was a fullback who could punt, pass, run and kick field goals.
He had his greatest college game in the 1925 Rose Bowl, a 27-10 loss to Notre Dame. Nevers had broken an ankle in preseason practice in September and didn't see action until the last two games of the regular season. He then fractured the other ankle, but by rigging up a special brace, was able to play in the Rose Bowl and carried the ball 34 times and netted 114 yards. He also intercepted a pass that set up the Stanford touchdown and was voted Rose Bowl MVP.
Nevers signed as a pitcher with the St Louis Browns in 1926. He made his debut on April 26, appearing in 11 games for a 2-4 record and 4.46 ERA. In the winter of 1926 he played professional football with the Duluth Eskimos and returned to the Browns for the summer of 1927, yielding two home runs to Babe Ruth who was on his way to a record-setting 60.
In 1928, Nevers made just six relief appearances for the Browns, spending the majority of the season with Mission in the Pacific Coast League, where he was 14-11. He was back with Mission in 1929, his final year in professional baseball, and had a 7-8 record with a 4.56 ERA. "I think I could have been a very good pitcher or outfielder," Nevers recorded some years later. "But you can't play both football and baseball and expect to excel.
"What ruined me in baseball was a football injury. I hurt my back and this caused me to alter my pitching motion. I hurt my arm and that was the end."
In 1929, Nevers joined the NFL's Chicago Cardinals as a fullback and coach, remaining with the team until 1931.
In 1942, at the age of 40, Nevers joined the Navy. He was originally assigned duty at Navy Pier in Chicago, then transferred to the Marines at Quantico in February 1943. As a captain he served with a Marine aviation group at Bougainville, Green and Emerald Islands in the Pacific.
Nevers was promoted to major when he returned home in late 1944, and assumed duties as base athletic officer at the Marine Corps Base San Diego. He was honourably discharged from service in 1945.
Nevers was inducted in the College Football Hall of Fame in 1951 and the Pro Football Hall of Fame in 1963. His son, Gordie Nevers, played baseball in the Three-I League in the late 1950s, and his grandson, Tom Nevers, was a first round draft pick by the Astros in 1990.
Ernie Nevers died on May 3, 1976 at San Rafael, California. He was 73.
Created December 12, 2007.
Copyright © 2007 Gary Bedingfield (Baseball in Wartime). All Rights Reserved.