Date and Place of Birth: September 9, 1913 Brighton, Massachusetts
Died: October 19, 2001 Aliquippa, Pennsylvania
Baseball Experience: Major League
Position: Pitcher
Rank: Master Sergeant
Military Unit: 101st Field Artillery Battalion, 26th Infantry Division US Army
Area Served: Pacific Theater of Operations
Hugh Mulcahy, first major league player inducted into the army under the selective service act, hopes to play baseball for Uncle Sam. The 27-year-old Philadelphia Phillies pitcher, who left Saturday night for Camp Edwards on Cape Cod, said that a year away from the big leagues should not seriously hamper his baseball career. "I won't be 28 until September," explained the 6 foot 2 inch moundsman, "and they say that a pitcher's prime comes between the ages of 28 and 31- So, by the time I come out of the army I should be just about reaching my peak."
Associated Press March 9, 1941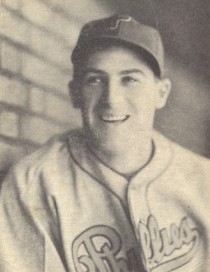 Hugh N Mulcahy was born in Brighton, Massachusetts on September 9, 1913. He attended Brighton High School where he was an outfielder but as he grew taller he took up pitching.
Mulcahy graduated from high school in 1931, and spent a year at the Dean Academy, playing ice hockey in the winter. Mulcahy was the pitching ace of the Dean Academy team and were undefeated in 1932. He then went on to pitch for the Allston Braves in the Boston Twilight League.
In 1933, a New York Giants' scout signed Mulcahy. He spent the summer in the New England League and posted an 8-4 record. Mulcahy was pitching for Manchester of the Northeastern League in 1934. He finished the year with a 14-10 record. In 1935, Mulcahy was signed by Senators' scout, Joe Cambria. He pitched for Albany in the International League and was purchased by the Phillies in July.
Philadelphia's manager Jimmie Wilson and coach Hans Lobert worked on Mulcahy's natural side-arm delivery and encouraged him to use a three-quarter delivery. It was a slow start and Mulcahy posted a 1-5 record with a 4.78 ERA for 1935.
Mulcahy spent 1936 at Hazleton in the New York-Penn League. He was 25-14 and received The Sporting News Most Valuable Player award. He was recalled by the Phillies for the last couple of weeks of the season and was 1-1 with a 3.20 ERA in three appearances.
Mulcahy was a regular starter over the next four seasons with the Phillies – the National League's perennial basement team. Pitching for a team that lost 100-plus games in three of those four seasons, Mulcahy posted win-loss records of 8-18, 10-20, 9-16, 13-22 between 1937 and 1940, earning him the nickname "Losing Pitcher".
With war clouds looming across Europe, President Roosevelt signed the Selective Training and Service Act on September 16, 1940, creating the country's first peacetime draft. The Act required that men between the ages of 21 and 30 register with local draft boards. "Personally I think this conscription bill is a great thing for the young men of today," Mulcahy told the press at the time. He finished the 1940 season with a 6-0, four-hitter against the New York Giants on September 27. In typical fashion the win snapped a 12-game losing streak, but little did Mulcahy know it would be the last game he would throw in the major leagues for five years.
On March 8, 1941, Hugh Mulcahy became the first major league regular to enter military service. "I had heard that people were getting as much as a year's deferment to get things squared away," Mulcahy told writer William B Mead, "so I tried to get a six-month delay but they wouldn't give it to me. And then they said – of course, everything was kind of mixed up then – that they wouldn't catch me until September. I was already packed, ready to go to spring training at Miami Beach the next day, when I got the notice. So I was in; it was March 8th when I went in, about nine months before Pearl Harbor … then Pearl Harbor hit and everybody whipped into trying to get the job done." But Mulcahy did have a concern. ""I wasn't worried about how it would affect my baseball career. I was more concerned about how I would pay off a mortgage on a new home I had bought."
Referring to Mulcahy's military call-up, teammate, Bobby Bragan, later recalled, "Hugh Mulcahy was a hero in the minds of all ballplayers at that time."
For his one year of military service, Private Mulcahy was assigned to the 101st Field Artillery Battalion of the 26th Infantry Division at Camp Edwards, near Cape Cod, Massachusetts. "I hope to get a chance to play ball for the Army," he told reporters on March 10, 1941. "When I get out of the service in a year, it will be the start of the baseball season and I will be in the best of condition."
Mulcahy was pitching for the Camp Edwards baseball team during the summer of 1941 but soon realized that Army life was not easy. "Even life with the Phillies was easier," he told the press on July 29, 1941. "But I can't complain, I've thought the whole thing over many times, and I've come to this conclusion. Every man owes his country a year."
But on December 5, 1941 – after ten months of service - Mulcahy was honorably discharged after Congress released men aged 28 years and older from service. Two days later the Japanese attacked Pearl Harbor and Mulcahy was back in military fatigues.
On January 29, 1942, Philadelphia sports writers honoured Mulcahy, making him a special guest at the writers' annual banquet. As the baseball season came around Mulcahy began to loosen up his throwing arm with the camp team, and was forced to turn down an offer of $1,200 a month to play weekend baseball with a nearby semi-pro team because he was allowed only one weekend furlough a month from Camp Edwards.
On May 19, 1942, Mulcahy was in Philadelphia on furlough to attend a war charity game. He pitched batting practice for the Phillies, threw out the first ball, was presented with $250 worth of war bonds by his old teammates, and received a silver platter from the American Legion. Then on May 23, the Boston Red Sox hosted the Athletics in a benefit game with a Hugh Mulcahy pitching against Bob Feller in an Army-Navy preliminary game. Feller pitched for Quonset (Rhode Island) Naval Air Station while Mulcahy hurled for Fort Devens (Massachusetts) and won the five inning contest, 5-0.
On June 15, 1942, Mulcahy participated in a five-inning baseball game at the Polo Grounds, New York, as part of an all-sports carnival to raise funds for Army-Navy Relief. Mulcahy pitched for the Army team and was beaten by the Navy's Bob Feller.
By early 1943, Sergeant Mulcahy was in the Carolinas. He wrote a sports column for the Fort Bragg, North Carolina newspaper and played ball for the 26th Infantry Division team at Fort Jackson, South Carolina.
In 1944, he moved to Second Army Headquarters in Memphis, Tennessee and was part of the big league pitching staff (along with Hal Toenes and Johnny Beazley) of the Fourth Ferrying Group baseball team.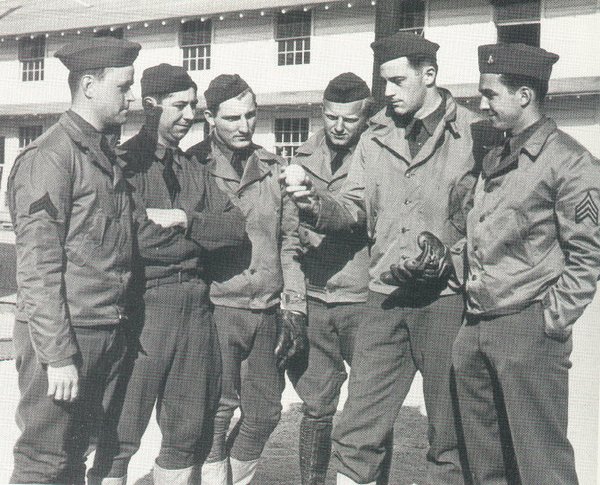 Mulcahy demonstrates his grip at Camp Edwards in 1941
"It's been more than three years now," the 31-year-old pitcher told the Associated Press on July 18, 1944, in response to questions about whether players would be able to play again in the majors after military service, "but as for my arm, it's as good as it ever was.
"Sure, I've missed that regular work and training. But I pitched a little with the 2nd Army this spring, you know. I found I still had all my stuff, hadn't lost any of my speed and control."
By August 1944, Master Sergeant Mulcahy was in the southwest Pacific playing for a hand-picked ball team that toured military bases in New Guinea and the Philippines entertaining troops. The squad included major leaguers Ken Silvestri, Al Flair, Al Kozar and Irv Dusak.
Many of the games took place in war-torn Rizal Stadium in Manila where outfield walls were scarred with mortar blasts and bleachers damaged by falling bombs. But, in the shadow of a plaque dedicated to a Lou Gehrig home run, Mulcahy pitched well until he suffered a debilitating case of dysentery and lost 35 pounds.
In July 1945, Lieutenant General Robert L Eichelberger, Eighth Army commander, awarded Mulcahy a Bronze Star before sending him home to the States.
Mulcahy was back with the Phillies in mid-August 1945, but was sent home to rest and regain his strength. He pitched his first major league game since September 1940 on August 26, 1945 and was beaten by the Boston Braves, 6-5. He earned his first post-war win against the Chicago Cubs on September 14, beating them 4-3.
In January 1946, Bob Feller set up a three-week school in Tampa, Florida, to develop the baseball skills of returning veterans, and Mulcahy worked as an instructor at that camp before going to spring training with the Phillies.
Mulcahy was not the same pitcher he had been before the war. "I felt that I was very fortunate and also thankful that I was able to have the chance to get back into baseball," he told me in 2000. "I had confidence that I could pitch again in the major leagues, but being away for so long proved different."
"After missing about five years from baseball," he told writer David Finoli, "and losing 35 pounds from an illness, I lost the zip in my fastball which was my main pitch."
In 16 games in 1946, he compiled a 2-4 record and a 4.45 ERA. The Phillies released him after the season and he signed with the Pirates for 1947. He pitched just two games for Pittsburgh and was released in May. Mulcahy joined Oakland in the Pacific Coast League after that but was released after posting a 1-6 record. He spent the next three seasons with Memphis in the Southern Association, and toiled for Albany of the Eastern League in 1951 before retiring.
Mulcahy worked as a minor league pitching instructor for the Chicago White Sox for many years and became the assistant pitching coach for the White Sox in 1970. He also supervised their minor league training camp.
Hugh Mulcahy spent his retirement years with his wife, Ruth, in Beaver, Pennsylvania, where, for more than 15 years, he delivered for Meals on Wheels to clients who were usually younger than he was.
Reflecting on his wartime service, Mulcahy told writer William B Mead, "I never felt really bad about it. It never shook me up; I never think back on what might have been. I'm very thankful that I came back."
He passed away on October 19, 2001, at Aliquippa Community Hospital after a battle with cancer. Mulcahy was 88 years old and is buried at Beaver Cemetery, Beaver, Pennsylvania.
Thanks to the late Hugh Mulcahy for help with his biography.
Created February 19, 2007. Updated April 13, 2007.
Copyright © 2007 Gary Bedingfield (Baseball in Wartime). All Rights Reserved.