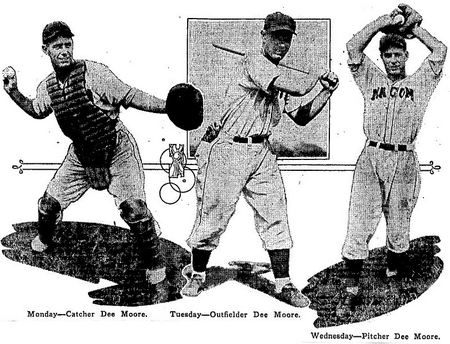 DC "Dee" Moore was born on April 6, 1914 in Hedley, Texas. A versatile player who could handle almost every position, he signed with Los Angeles of the Pacific Coast League in 1933 playing just four games. In 1934, Moore was with Ponca City of the Western Association as a catcher, batting .333 in 41 games and making a further eight appearances with Los Angeles.
1935 saw the 21-year-old playing the outfield for Ponca City although he also caught 20 games and pitched 16 for a 12-3 record and 3.33 ERA. He joined Macon of the South Atlantic League in 1936 where he played the outfield, catcher, first base and third base, in addition to taking his turn in the starting rotation late in the season and hurling the circuit's only no-hitter.
Moore was called up by the Cincinnati Reds in September 1936. He made one appearance as a catcher and two as a pitcher – including a start – and allowed no earned runs over seven innings. Furthermore, he was 4-for-10 at the plate with two doubles and a triple.
Moore struggled at the plate for the Reds in seven games in 1937 and spent the majority of the season with Syracuse and Nashville. He remained with Syracuse in 1938 and was with Indianapolis in 1939. He was with Birmingham in 1940 and Anniston in 1941 and remained with Anniston in 1942.
But just when Moore's hopes of getting back to the major leagues appeared to be slipping away, he was drafted by the Brooklyn Dodgers and found himself at Ebbets Field on opening day 1943. Moore played 37 games for the Dodgers as a catcher/third baseman before joining the Phillies in mid-season. He played a further 37 games with Philadelphia, batting .239.
Moore entered military service with the Marines at the beginning of 1944 and was stationed at the Marine Corps Base in San Diego where he played baseball on a regular basis. The following year he was assigned to the Fleet Marine Force in Hawaii and quickly established himself as one of the island's top players. Continuing his versatile style of play, Moore caught and played third base for the Marines, while throwing a 7-0 one–hitter and beating Hugh Casey, 3-2, in 11 innings as a pitcher.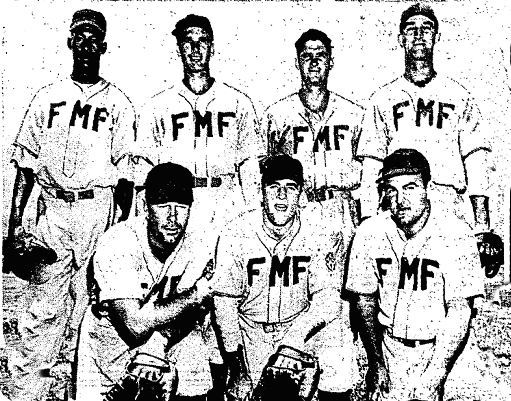 Fleet Marine Force (FMF) Hawaii in 1945
Front row (left to right): Dee Moore, Bob Green, Boots Poffenburger
Back row (left to right): Calvin Medley, Ray Yochim. Bob Revels and Orin Baker
Private First-Class Moore was still in Hawaii in the spring of 1946, playing baseball with the Hawaiian All-Stars. He returned to the Phillies late in the season and played 11 games getting one hit in 13 at-bats.
Between 1947 and 1951, Moore played in the Pacific Coast League with Sacramento and San Diego. He remained in baseball during the 1950s as a player/manager with Mexicali, Ogden and Visalia.
Dee Moore passed away on July 2, 1997 in Williston, North Dakota. He was 83.
Created May 2, 2008.