Johnny Mize
Date and Place of Birth: January 7, 1913 Demorest, Georgia
Died: June 2, 1993 Demorest, Georgia
Baseball Experience: Major League
Position: First Base
Rank: Specialist First Class
Military Unit: US Navy
Area Served: Pacific Theater of Operations
The New York Giants can start looking for a first baseman. Johnny Mize is in the Navy.
Associated Press March 26, 1943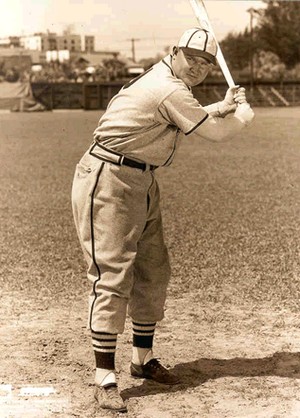 John R "Johnny" Mize was born in Demorest, Georgia on January 7, 1913. He was a sensational baseball player in high school, and while still a high school student he was used as a ringer on the Piedmont College team.
Mize later played for the Tuccoa semi-pro team in Georgia, with teammate Spud Chandler. He signed with the St Louis Cardinals in 1930 and played in their farm system until being sold to Cincinnati in December 1934. But Mize was returned to the Cardinals because of a knee injury in April 1935, and the Big Cat made his debut with St Louis in 1936. Mize hit .329 his rookie year and finished second in the National League with a .364 average in 1937. He led the league in hitting in 1939.
Four days after the Japanese attack on Pearl Harbor in December 1941, Mize was sold to the New York Giants. He batted .305 with 25 home runs and 110 RBIs for the Giants in 1942.
On March 25, 1943, Mize passed his physical at Jefferson Barracks, Missouri and entered the Navy. Based at Great Lakes he played for the Bluejackets baseball team with Frankie Baumholtz, Joe Grace, Johnny Lucadello, George Dickey and Tom Ferrick.
In 1944, Specialist First Class Mize was sent to Hawaii with the Navy's major league baseball all-stars. Based at the Naval Air Station Kaneohe, he blasted a 425-foot home run against the 7th Army Air Force team before embarking on a tour of the Pacific with the Navy's Fifth Fleet team including stops at the Marshall Islands, Guam, Saipan, Palau and Leyte. "Mize hit several right over the palm trees into the ocean," recalled Virgil Trucks to author Richard Goldstein.
Mize was discharged from the Navy in October 1945. He returned to the Giants in 1946 and played 101 games, batting .337.
| | |
| --- | --- |
| Mize with Mickey Cochrane at Great Lakes | |
By the time he retired at the end of the 1953 season, Mize had played in 10 All Star games and homered in every major league stadium in the country. He had a career batting average of .312 with 359 home runs, 1,337 RBIs and 2,011 hits.
Johnny Mize was inducted in to the Baseball Hall of Fame in 1981. He died at his home in Demorest on June 2, 1993.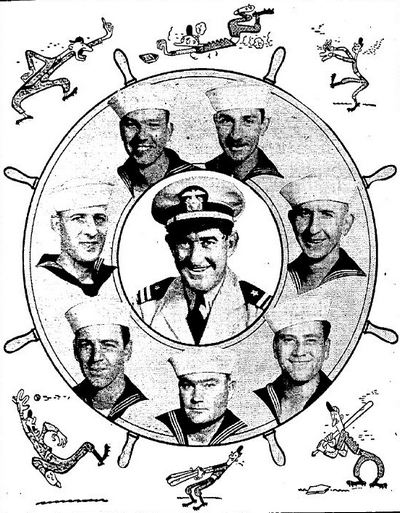 The Great Lakes team of 1943: Mickey Cochrane, inset.
Clockwise around the wheel: Earl Bolyard, Vern Olsen, Johnny Lucadello,
Johnny Mize, Eddie Pellagrini, Joe Grace and George Dickey
Created January 18, 2007. Updated March 7, 2008.
Copyright © 2008 Gary Bedingfield (Baseball in Wartime). All Rights Reserved.

Baseball in Wartime Store

Visit the Baseball in Wartime Store for
t-shirts, sweatshirts and more...

click here