The St. Louis Browns Historical Society Official Website
a Mileur Media Group website at www.thestlbrowns.com
Ray Mileur, Publisher

Al Milnar
Date and Place of Birth: December 26, 1913 Cleveland, Ohio
Died: June 30, 2005 Cleveland, Ohio
Baseball Experience: Major League
Position: Pitcher
Rank: Non-commissioned officer
Military Unit: US Army
Area Served: Pacific Theater of Operations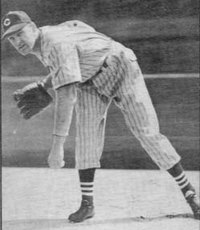 Albert J "Al" Milnar was born on December 26, 1913 in Cleveland, Ohio. His father, Joseph, ran a candy store in Cleveland, and Al played for the Milnar Confections sandlot team. In 1932 he was pitching for the top rank Quaker Sugars amateur team, when signed by the Cleveland Indians.
Milnar was assigned to the Zanesville Grays of the Mid-Atlantic League in 1933. He finished the year with a 13-7 won-loss record, but captured the attention of the Indians when he struck out 18 of their batters in an exhibition game.
He joined the New Orleans Pelicans of the Southern Association in 1934 and was 22-13, improving on that mark with an outstanding 24-5 season in 1935, including a 17-game winning streak.
Milnar joined the Indians in the spring of 1936. He made his debut against New York at Yankee Stadium on April 30 and issued walks to the first five batters he faced. Milnar was sent to Minneapolis for the remainder of the year where he had a disappointing 8-15 record.
Still with Minneapolis in 1937, Milnar was 16-13. He joined the Indians in 1938 and pitched 23 games mainly as a reliever. The Indians were keen to sell Milnar during the winter meetings of 1938 but there were no takers and he remained with the club. In 1939, as a regular starter, he began to show promise with a 14-12 record and 3.79 ERA.
Nineteen-forty was to be his best year. Milnar was 18-10 with a 3.27 ERA. He led the American League with four shutouts and was an all-star selection. In 1941 his record dropped to 12-19, and he was only 6-8 in 1942. Milnar had a 1-3 record and an ERA of 8.08 in 16 games when he was sold to the St Louis Browns in August 1943. He made three appearances for the Browns and entered military service the following year.
Married with two children, he had been reclassified 1-A from 3-A in January 1944 and was called to service on January 27. Following induction, he was assigned to Fort Benjamin Harrison, Indiana on March 29, 1944, where he met up with former New Orleans' teammate Roy Weatherly.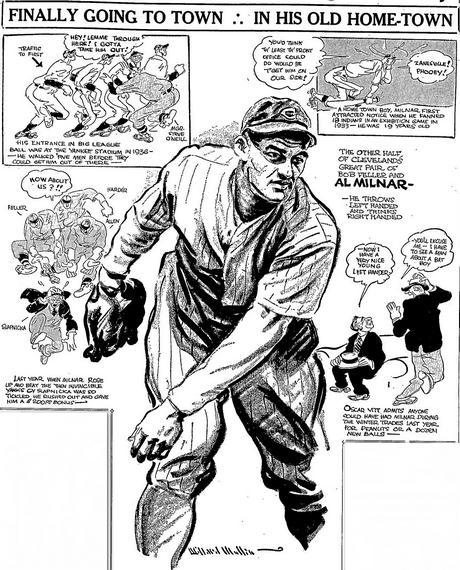 By June 1944, he was at Fort McLellan in Anniston, Alabama, and then left for duty in the Pacific. After going overseas with an Army engineering outfit, Milnar was drafted into athletic work and served as a Special Service non-commissioned officer on an island in the Philippines.
"He has organized two baseball leagues, one with 14 teams and the other with ten," explained The Sporting News on June 28, 1945, "and has greatly increased the number of diamonds on the island. In addition, Al manages a base all-star team, which includes all the better players on the island, except for Hugh Mulcahy's 8th Army team. Milnar also has organized 26 volleyball, 30 basketball and 28 softball teams into numerous leagues."
Milnar was discharged on January 15, 1946. He returned to the Browns for spring training but was completely ineffective after the two-year lay off. On March 7 he gave up five runs in the 6th inning of exhibition against Seattle. The Browns sent him to the Phillies on May 29. He made one appearance and gave up four runs without an out – forcing a return to the Browns, who released him on June 13.
Milnar pitched in the minors for a couple more years and also managed before retiring from the game.
Al Milnar passed away on June 30, 2005 in Cleveland, Ohio. He was 91 years old.
Created August 30, 2007.
Copyright © 2008 Gary Bedingfield (Baseball in Wartime). All Rights Reserved.