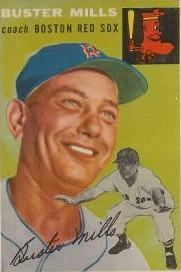 Colonel B "Buster" Mills was born on September 16, 1908 in Ranger, Texas. The University of Oklahoma graduate signed with Mobile of the Southeastern League in 1932, and had stops at Elmira and Rochester before joining the St Louis Cardinals on April 18, 1934. Mills played 29 games his rookie year and was sold to the Brooklyn Dodgers at the end of the season.
In 1935, his only season with Brooklyn, Mills played 17 games and found himself back with Rochester in 1936. He joined the Boston Red Sox in 1937 and played 123 games, batting .295 with 58 RBIs. He was on the move again in 1938 and batted .285 with the St Louis Browns before being sold to the Yankees at the end of the year. The Yankees assigned the 30-year-old outfielder to Newark of the International League in 1939 and he played 34 games with the Yanks in 1940.
Mills was with Kansas City of the American Association in 1941, where he hit .307 and joined the Cleveland Indians in 1942, playing 80 games and batting .277.
Mills entered military service with the Army Air Force after the 1942 season. He was initially assigned to Blackland Field, Texas, and then to Waco Army Air Field where he was attched to the 79th Base HQ Airbase Squadron and played baseball alongside Birdie Tebbetts, Sid Hudson and Bruce Campbell for the Waco Army Air Field Wolves.
First Lieutenant Mills was sent to Hawaii in 1945. In July, he managed the 73rd Bomb Wing Bombers on the 20th Air Force tour of Pacific Islands. The Bombers were based at Isley Field, Saipan and played round-robin competitions against Birdie Tebbett's 58th Bomb Wing and Lew Riggs 313th Bomb Wing. The Bombers, with a line-up that featured Sid Hudson, Tex Hughson, Stan Rojek and Mike McCormick, won nine of 11 games on the Marianas Island leg of the tour.
Mills returned from military service in 1946 to play just nine games with the Indians but joined their coaching staff the same year. He also coached the White Sox, Reds and Red Sox in later years. In 1953 he managed eight games with the Reds.
Buster Mills passed away on December 1, 1991 in Arlington, Texas. He was 83.
Created March 30, 2008.