The St. Louis Browns Historical Society Official Website
a Mileur Media Group website at www.thestlbrowns.com
Ray Mileur, Publisher

John "Ox" Miller
Date and Place of Birth: May 4, 1915 Gause, Texas
Died: August 13, 2007 George West, Texas
Baseball Experience: Major League
Position: Pitcher
Rank: Unknown
Military Unit: US Army
Area Served: United States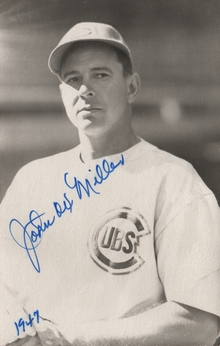 John A "Ox" Miller was born on May 4, 1915 in Gause, Texas. The son of a physician, the family moved to George West, Texas when that town was in need of his father's services.
Miller played football and sandlot baseball in George West, and after graduating from George West High School he attended Westmoreland College in San Antonio.
In 1938, Miller signed for the St Louis Browns and was assigned to the Palestine Pals of the East Texas League where he played a handful of games before the season was over. He pitched for the Lincoln Links of the Western League in 1939 and attracted attention with 21 wins. Miller earned the nickname "Ox" while with the Links after he pitched both ends of a double-header. The morning newspaper was an avid supporter of Miller and claimed he was "as strong as an ox". The rival evening newspaper, meanwhile, said, "No, we think he is as dumb as an ox" for pitching both games. Nevertheless, the name stuck.
One of those paying particularly close attention to the 24-year-old was scout Bill Rodgers from the Chattanooga Lookouts of the Southern Association. They signed him for the 1940 season and he became the property of the Washington Senators. He pitched for the Lookouts for the next four seasons and made his major league debut with the Senators on August 7, 1943. He had made three relief appearances when he was traded to the St Louis Browns on August 18. Miller made a further two appearances for St Louis before the season was over.
In 1944, he was with the Toledo Mud Hens of the American Association, and on June 6, 1944 – D-Day - he pitched for the Browns against the Navy Wings of Lambert Field, Missouri and won 10-1. His 6-4 won-loss record saw him recalled to St Louis in August although he didn't make an appearance.
Miller entered military service in the fall of 1944. He served with the Army in Texas and returned to the Browns in 1945. He pitched four games for St Louis in 1945, and had three starts for a 2-1 record and an impressive ERA of 1.59 before being optioned to Toledo in June.
He was back with the Browns in 1946 and made 11 appearances for a 1-3 record and 6.88 ERA – again ending the year with the Mud Hens. In 1947, he was assigned to the San Antonio Missions in the Texas League and was 11-8 with a 3.61 ERA – good enough to attract the attention of the Chicago Cubs for whom he made four starts at the end of the season.
Miller – now 33 – was acquired by the Sacramento Solons of the Pacific Coast League in 1948. He remained in professional baseball until the early 1950s, including a stint with the Nuevo Laredo Owls of the Mexican League.
Miller returned to George West after retiring from baseball. "I worked as a rural mail carrier for 33 years," he told me in 2001. He also managed the Flax Babe Ruth team in the 1960s and early 1970s. "The team went to the World Series six times during this period."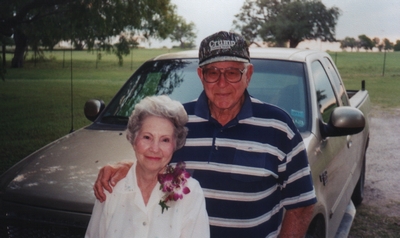 Ox Miller and his beautiful wife, Opal, in 1991.
Miller also managed semi-pro teams including the Victoria Rosebuds and Sinton Oilers. At one time, 21 of his former players were at either the college or professional level. Former Toronto and Atlanta pitcher Jim Acker was one of his former players.
At the same time he did farming and ranching. "I am now 86 years old," he recalled to me in 2001, "and still have cattle to check on daily, but the baseball days are over."
John "Ox" Miller passed away on August 13, 2007 in George West. He was 92 years old and is survived by his wife of 67 years, Opal.
Recalling his days with St Louis, Miller told me in 2001, "Many of the St Louis Browns teammates have passed on. Maybe they are still playing baseball somewhere because once a baseball player it never leaves you."
Well, now Ox Miller has joined them they have a heckuva pitcher on their team.
Thanks to Ox Miller for sharing some of the above information with me in 2001. Further information was also obtained from Rita Arnst's article in The Progress newspaper of Three Rivers, Texas.
Created August 30, 2007.
Copyright © 2008 Gary Bedingfield (Baseball in Wartime). All Rights Reserved.