Date and Place of Birth: September 11, 1926 Burlington, New Jersey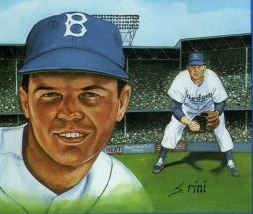 Edward T "Eddie" Miksis was born on September 11, 1926 in Burlington, New Jersey. He signed with the Brooklyn Dodgers in 1944. "He was just a schoolboy shortstop in Trenton last year when I first saw him," remarked Leo Durocher. "Boy, did my eyes pop! He could do everything."
The Dodgers sent the youngster to Trenton of the Inter-State League at the start of the season but they recalled him in June and Miksis made his major league debut at the age of 17 on June 17, 1944. He played 26 games with the Dodgers before being returned to Trenton a month later and finished the Inter-State season with a .267 batting average
.
Miksis entered military service with the Navy in January 1945. He was stationed at Bainbridge, Maryland and played regularly with the baseball team. On April 1, he tripled with the bases loaded in the ninth to help beat the Washington Senators, 18-7, and enjoyed an 18-game hitting streak during the season.
Miksis was discharged from service in late 1946 and joined the Dodgers for 23 games before the season was over. He played in both the 1947 and 1949 World Series with the Dodgers and remained a utility infielder with that team until traded to the Chicago Cubs in June 1951, when he became the Cubs starting second baseman and batted .266 in 102 games.
Miksis went on to play over 1,000 major league games and also played for the Cardinals (1957), Orioles (1957-1958) and Reds (1958).
Eddie Miksis passed away on April 8, 2005 in Huntingdon Valley, Pennsylvania.
Created May 12, 2008.