Go on, why not sponsor this page for $5.00 and have your own message appear in this space.


Click here for details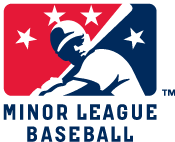 George McKinnon
Date and Place of Birth: circa 1919 Cleveland, Ohio
Baseball Experience: Minor League
Position: Infield
Rank: Ensign
Military Unit: US Navy
Area Served: Pacific Theater of Operations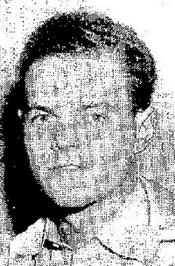 George Y McKinnon was born in Cleveland, Ohio in 1919. He had an outstanding
athletic record which included letters in baseball, basketball and football at Cleveland Collinwood High School
was an excellent baseball player at Northwestern University where he played second base and captained the team. He was the leading Big Ten hitter in 1941.
McKinnon was signed by the Chicago Cubs upon graduation and sent to the Zanesville Cubs of the Class C Middle-Atlantic League . "George McKinnon, captain of the 1941 Northwestern University baseball team," declared the Zanesville Signal on June 6, 1941," "has been signed by the Cubs, and is due to report here sometime today. The young rookie will either play at shortstop or third base."
McKinnon did not have much success in Zanesville although he was very popular with the local fans. After compiling only a .194 batting average with 20 hits in 103 times at-bat he was given his release July 8, 1941.
The young infielder was then recommended to the Winnipeg Maroons of the Northern League by James Gallagher, business manager of the Chicago Cubs, and McKinnon completed the season there.
McKinnon then took a two months' course in communications at Annapolis following his graduation from Northwestern's Naval ROTC. He became a communications officer in the Navy and served aboard the ill-fated USS Lexington.
Ensign McKinnon was soon seeing plenty of action aboard the aircraft carrier. "We were attacked by two waves of bombers, got 16 of 18, and it is doubtful if the other two got home," he told the Harry Grayson on April 22, 1942. "I saw the entire action and there was more cheering on our ship than at a Northwestern-Notre Dame football game. "It really was something to see - the real McCoy."
On May 8, 1942, things took a dramatic turn for the crew of the USS Lexington. The aircraft carrier was torpedoed and sunk by Japanese destroyers during the Battle of the Coral Sea. More than 200 crew members lost their lives, and McKinnon was reported as lost at sea – even the front page of the Zanesville Times Recorder reported his loss on July 18, 1942, with the headline "George McKinnon Down With Ship in Coral Sea."

Zanesville Times Recorder headline on July 18, 1942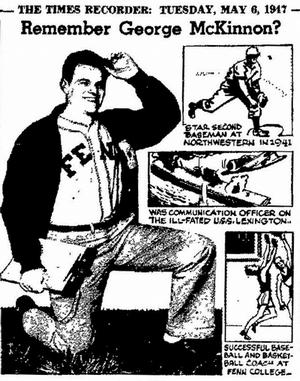 McKinnon, however, survived the sinking and was sent back to the USA to recuperate, and Navy officials, noticing his outstanding and Northwestern University, assigned him to coaching duties with Navy football and baseball teams.
After the war, McKinnon was signed as player-coach with a Class A Cleveland farm team and was highly successful. Following this success he was offered the position of basketball and baseball coach at Fenn College (now Cleveland State University), and abandoned his player career. His first team, the 1946 basketball squad, was the best Fenn College had had for many years and he also made the baseball team hugely successful.
In August 1949, McKinnon became Cleveland Heights High School football coach, but it was in 1961 that he began his illustrious coaching career back at Northwestern University, starting as a football assistant to Ara Parseghian. In 1962 he took over duties as head baseball coach at Northwestern and remained in that position until 1982. During that time he accumulated 304 victories and led the Wildcats to five 20-win seasons including a career best 28-12 record in 1973.
In 1978, he earned an award for 25 years of leadership and devotion to collegiate baseball from the American Association of College Baseball Coaches. He is also a member of the Illinois High School Baseball Coaches Association Hall of Fame and was inducted in the Northwestern Athletics Hall of Fame in 1994.
Created May 15, 2007.
Copyright © 2007 Gary Bedingfield (Baseball in Wartime). All Rights Reserved.