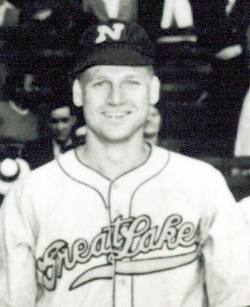 Benjamin J "Benny" McCoy was born on November 9, 1915 in Jenison, Michigan. The 18-year-old second baseman was signed by the Detroit Tigers in 1934 and sent to Shreveport and then Greenwood of the East Dixie League. He played 126 games his rookie year and batted .281 with 74 RBIs.
He joined Beaumont of the Texas League for the next two seasons and advanced to Toledo of the American Association in 1937. McCoy batted .309 with 17 home runs and 98 RBIs with Toledo in 1938 and made his major league debut with the Tigers that September. He split the 1939 season between Toledo and Detroit.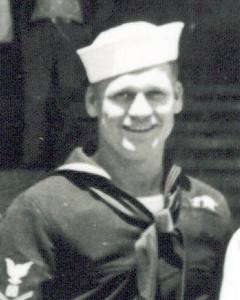 The Tigers traded McCoy to the Athletics in December 1939 but the deal was void as Commissioner Landis declared 91 Tiger minor leaguers as free agents. Major league clubs began bidding for the offensively powerful second baseman. The Washington Senators offered him a bonus of $20,000, the New York Giants raised it to $25,000, the Brooklyn Dodgers to $35,000, and the Pittsburgh Pirates and Cincinnati Reds to $40,000. But McCoy accepted the Athletics' offer of $45,000 and instantly became their starting second baseman.
McCoy batted .257 in 1940 and hit .271 in 1941, driving in 61 runs and having an American League fifth-best 95 base on balls. He entered military service on February 6, 1942. He was stationed at Great Lakes Naval Training Station in 1942, then Norfolk NTS in 1943 and 1944. At the end of the '44 season he was sent to Australia.
McCoy was discharged at the end of 1945 and returned to the Athletics. He worked hard in trying to gain the second base job at the Athletics' Wright Field camp in West Palm Beach, but was released in March 1946. He had a week's trial the following month with his old club, the Tigers, but failed to impress manager Steve O'Neill and returned to his Grandville, Michigan home.
In June 1946, McCoy joined the St Joseph Auscos of the Michigan-Indiana Semi-Pro League, helping them to the National Baseball Congress championship.
Benny McCoy passed away on his 96th birthday on November 9, 2011 in Grandville, Michigan.
Created April 18, 2008. Updated November 12, 2011.