Date and Place of Birth: April 11, 1917 Coal Run, Pennsylvania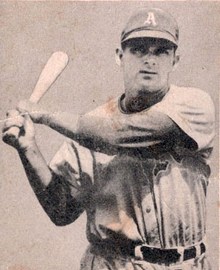 William B "Barney" McCosky was born on April 11, 1917 in Coal Run, Pennsylvania, and grew up playing baseball on the sandlots of Detroit. He was signed by the Tigers and began his professional career in the Texas League with Beaumont in 1936. But after a slow start was sent to Charleston in the Middle Atlantic League. McCosky promptly tore up the league and led the circuit in hitting with an incredible .400 batting average.
He was back with Beaumont in 1937 where he hit .318 and followed that with a .302 season in 1938. McCosky joined the Detroit Tigers as their centerfielder the following year and hit over .300 his first three seasons in the majors. In 1940, he led the American with 200 hits and 19 triples, while his fielding average of .983 in 143 games was second only to Walt Judnich of the Browns.
McCosky entered military service with the Navy on December 11, 1942 and was originally assigned to pre-flight school in Ohio where he was training to be a pilot. "I was 25 at the time," he later said, "and when I got in that school there were kids 19 and 20, just out of college. I couldn't keep up with those guys. I said 'What the hell am I doing here?'
"So I called Great Lakes; Mickey Cochrane was a commander there. I said, 'Mickey, get me out of this end of it. Get me over there; I'll be a sailor.' About a week later I was in Great Lakes. I played ball for him that summer; that was in '43."
McCosky played around 40 games at Great Lakes that summer and, as expected, he batted over .300.
McCosky was then sent to Bainbridge where – along with Johnny Mize, Elbie Fletcher and Mickey Vernon - he went through Gene Tunney's fitness program and graduated as a chief athletic specialist. From there he went to Treasure Island, near San Francisco and played for the Navy team before leaving on the USS Birmingham for Hawaii, where he managed the Aiea Barracks team.
In September 1944, McCosky played for the Navy team that easily defeated the Army for the Pacific World Series title in Hawaii. In 1945, he joined fellow major leaguers on the Western Pacific tour. Playing for the Navy's Third Fleet team under the direction of Marine Lieutenant Mace Brown, they staged exhibition games at Kwajalein, Saipan, Guam, Tinian, Ulithi, Peleliu and Anguar.
McCosky was assigned to Saipan after the tour where he conducted athletic drills and supervised rehabilitation training in hospitals.
Chief Specialist McCosky was discharged from service on October 14, 1945. He returned to the Tigers in 1946, but was uncharacteristically batting just .198 after 25 games when he was traded to the Philadelphia Athletics for George Kell. The 29-year-old soon found his form in Philadelphia and hit .354 in 92 games. In 1947, he finished second in the batting race to Ted Williams with a .328 average.
McCosky remained with the Athletics until purchased by the Reds in May 1951 and was then selected off waivers by the Indians in July of the same year. At 36, his major league career ended with the Indians in 1953. He appeared in 1,170 games for a lifetime average of .312.
Barney McCosky passed away in Venice, Florida on September 6, 1996. He was 79.
Created December 8, 2007.