Date and Place of Birth: May 6, 1917 Angels Camp, California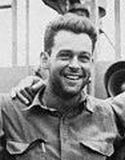 Myron W "Mike" McCormick was born on May 6, 1917 in Angels Camp, California. At the age of 17, he was signed by the Cleveland Indians and sent to Monessen of the Penn State Association. By 1936, he was playing with the New Orleans Pelicans in the Southern Association and joined Buffalo in the International League the following season.
However, in March 1938, McCormick was declared a free agent by Commissioner Landis because he thought the Indians were trying to keep the young outfielder in cold storage in the minors. He was signed by the Washington Senators and played for Indianapolis in 1938. He hit .318 for Indianapolis in 1939 and joined the Cincinnati Reds in 1940.
McCormick batted an even .300 in his rookie season in Cincinnati, led the league with 20 sacrifice hits and batted a superb .310 in the Reds' World Series win against the Tigers.
He hit .287 as the Reds leftfielder in 1941, but broke his leg on May 30, 1942 after just 40 games. Fully recovered for 1943, and with a single in four trips to the plate against the Cardinals, McCormick wound up his career for the duration on April 25, 1943, and headed for Stockton, California to await his military induction.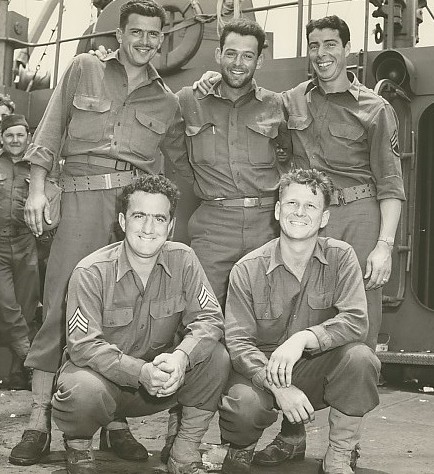 Mike McCormick (back row, center) with Joe

DiMaggio

and teammates enroute to Hawaii in

1944

.
Serving with the Army Air Force, he was assigned to the 495th Squadron at McClellan Field in California and played for McClellan Field Fliers in 1943 with Walt Judnich, Dario Lodigiani, Rugger Ardizoia and Ferris Fain.
In February 1944, he earned a sharpshooter's award at McClellan Field, scoring 173 out of 200, but was soon on his way to Hawaii.
McCormick played for the formidable Hickam Field team in Hawaii with Joe DiMaggio and was a league all-star selection. He played in the Army-Navy Pacific World Series of 1944 and toured Pacific Islands with the 20th Air Force team.
McCormick returned to the Reds in 1946 but was purchased by the Boston Braves in June. He would go on to have his best season in the majors with the Braves in 1948, when he hit .303 in 115 games and played in his second World Series. McCormick was traded to the Dodgers for the 1949 season and also played for the Giants, White Sox and Senators before ending his major league career in 1951.
McCormick played for Sacramento and Portland in the Pacific Coast League in 1952 then turned his hand to managing in 1953, piloting Wenatchee, Johnstown, Lake Charles, Springfield, Danville, Fresno and Pocatello before leaving baseball in 1960.
Returning to his home in Ventura, California, Mike McCormick suffered a heart attack while watching Dodgers home opener against Padres on April 14, 1976, and died shortly afterwards. He was just 58.
Created December 8, 2007.