Merrill G "Pinky" May was born on January 18, 1911, in Laconia, Indiana. A graduate of Indiana University, he was signed by the Yankees in 1932 and sent to Cumberland of the Middle-Atlantic League where he batted .264. He batted .309 with Durham of the Piedmont League in 1933, and hit .301 for Binghamton of the New York-Penn League in 1934.
May spent the next two years with Newark of the International League, played a season with Oakland of the Pacific Coast League, and was back with Newark in 1938. After seven years in the minor leagues, the 28-year-old third baseman finally got his chance when he was drafted from the talent-rich Yankees farm system by the Philadelphia Phillies. May made his major league debut with the Phillies in 1939 and appeared in 135 games, batting .287 and leading the National League with 25 sacrifice hits.
In 1940, he batted .293 for the Phillies and was an all-star selection, remaining the team's regular third baseman until entering military service with the Navy on November 22, 1943.
May played for Lieutenant Mickey Cochrane's Great Lakes team in 1944. He was sent to Hawaii at the beginning 1945. A journey by ship he'd sooner forget. "We were all sick from that ship," he said. "If we were not down in the latrine, we were topside hanging over the rail."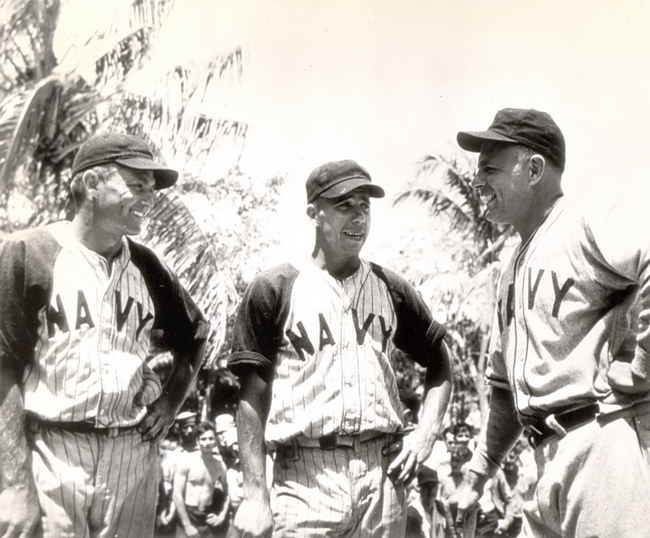 Pinky May with Pee Wee Reese and Johnny Vander Meer in the Pacific
May was part of the Western Pacific Tour squad that played ball games for the fighting troops on Pacific islands in 1945. He was then assigned to the island of Tinian, where the Quonset hut he lived in was less than one hundred yards from an airstrip. He spent many evenings watching B-29s take off to bomb Japan.
May was released by the Phillies upon his return from service in 1946. He became a manager in the minor leagues for the next four decades and his son, Milt May, had a 15-year career as a major league catcher.
Merrill "Pinky" May passed away on September 4, 2000 in Corydon, Indiana. He was 89 years old.
Created February 18, 2008. Updated February 24, 2008.