Gene Mauch
Date and Place of Birth: November 18, 1925 Salina, Kansas
Died: August 8, 2005 Rancho Mirage, California
Baseball Experience: Major League
Position: Infield
Rank: Unknown
Military Unit: US Army Air Force
Area Served: United States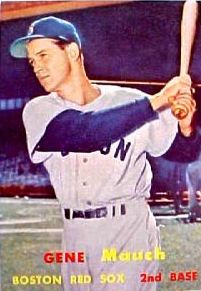 Gene W Mauch was born on November 18, 1925 in Salina, Kansas. He was signed by the Brooklyn Dodgers in 1943 and played for Durham and Montreal his rookie year. In 1944, the 5-foot-10 infielder made his major league debut with the Dodgers on April 18, but after batting .133 in five games he was back with Montreal until being called into military service on May 1, 1944.
Mauch served with the Army Air Force at Marana Army Airfield in Arizona where he regularly played baseball with the Marana Hosses. He was discharged from service on June 2, 1946 and joined St Paul of the American Association for the remainder of the season.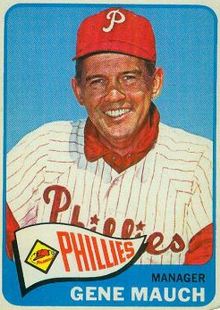 The Dodgers traded Mauch to the Pirates in May 1947 and he played 16 games with Pittsburgh that year. Oddly enough, he was traded back to the Dodgers at the end of the season and played 12 games with the club before he had to pack his bags again – this time he was headed for the Chicago Cubs. Mauch remained with the Cubs through 1949, then played for the Boston Braves in 1950-1051, the Cardinals in 1952 and after three years in the minors, made a big league comeback with the Red Sox in 1956-1957.
Mauch played the next two seasons in the minors with Indianapolis, then joined the Philadelphia Phillies as manager in 1960. Gene Mauch, "the little general" went on to manage the Phillies, California Angels, Minnesota Twins and Montreal Expos to 1,902 wins. Rod Carew, who played for Mauch in both Minnesota and Anaheim, called the manager, "My favourite man. He's always been a special guy to

me. He's the best I've ever played for, well ahead of anyone else," the Hall Famer said.
Gene Mauch died on August 8, 2005, at Eisenhower Medical Center in Rancho Mirage, California, after a long battle with cancer. He had lived in the desert resort area since retiring.
Created May 13, 2008.
Copyright © 2008 Gary Bedingfield (Baseball in Wartime). All Rights Reserved.