Date and Place of Birth: June 22, 1920 Philadelphia, Pennsylvania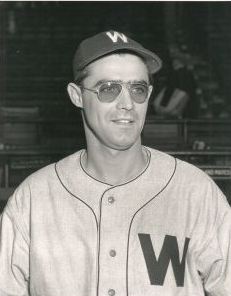 Walter E "Walt" Masterson was born on June 22, 1920 in Philadelphia, Pennsylvania. He was a standout basketball and baseball player pitcher at Northeast Catholic High School, and was pitching for the semi-pro Landreth Seed Company team in Bristol, Pennsylvania during the summer of 1938 when scouted by the Washington Senators. Masterson joined the Washington club for the final month of the season although he did not make an appearance and then attended spring training in 1939.
The Senators were highly impressed with the youngster but sent him to Charlotte of the Piedmont League where he pitched two games before returning to Washington and making his major league debut on May 8.
Masterson pitched 24 games, primarily as a reliever, in 1939. He finished with a 2-2 record and 5.55 ERA. The following year he was 3-13 as a starter/reliever and continued to pitch for the Senators until military service beckoned on September 15, 1942. His best pre-war season was 1942 when he was 5-9 with a 3.34 ERA.
Masterson was at Norfolk Naval Training Station at the beginning of the 1943 baseball season but was soon shipped to Hawaii where he was stationed at the Pearl Harbor Submarine Base. In addition to being player/manager of the Sub Base baseball team, Masterson served aboard the submarines USS Scorpion (SS-278), USS Seawolf (SS-197) and USS Tuna (SS-203) and the submarine tender USS Apollo (AS-25).
By 1945, Chief Petty Officer Masterson was back in the United States at the New London Submarine Base, Connecticut. He was discharged from service on September 11, 1945 and returned to the Washington Senators to pitch four games before the season ended. "It was not a happy time coming out of the service," he told a writer at the time, "which I guess it should have been." The service, he said, "messes up your head. When you get to the position where you don't care whether you live or die, you're kind of strange to be around."

USS Scorpion (SS-278) submarine that Walt Masterson served aboard during the war. The Scorpion was lost on January 5, 1944. There were no survivors.
Masterson won a career-high 12 games in 1947 and pitched in the All-Star game. In 1948, he was the American League's starting pitcher in the all-star game. He pitched the best game of his career on a June afternoon in 1947 in Chicago, when he held the White Sox scoreless for 16 innings. In the 17th inning, he gave way to reliever Early Wynn, who got credit for the victory when the Senators pushed across the game's only run in the 18th.
"Masterson was something out of this world," The Washington Post said the next day. In the 16 innings he was on the mound, he gave up only six hits -- all of them singles -- struck out seven batters and walked six.
He continued to pitch in the major leagues with Washington until June 1949 and also spent time with the Red Sox and Tigers as well as another stint with the Senators. Masterson's last season in professional baseball was in 1957 with San Francisco of the Pacific Coast League.
After baseball, Masterson was a national sales manager for a golf shoe manufacturer and later a national sales manager for a Kansas-based company that sold flour in bulk to bakeries. In 1972, he returned to baseball as a pitching coach with the Texas Rangers, and in 1980-81, he was the baseball coach at George Mason University.
Walt Masterson passed away at Duke University Hospital in Durham, North Carolina on April 5, 2008. He was 87.
Thanks to Harrington "Kit" Crissey's book, Athlete's Away, for information on Walt Masterson's wartime service.
Created May 4, 2008.