Joe Marty
Date and Place of Birth: September 1, 1913 Sacramento, California
Died: October 4, 1984 Sacramento, California
Baseball Experience: Major League
Position: Outfield
Rank: Sergeant
Military Unit: 20th Air Force, USAAF
Area Served: Pacific Theater of Operations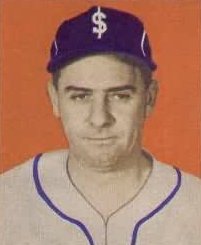 Joseph A "Joe" Marty was born in Sacramento, California on September 1, 1913. He was a sensational athlete at Christian Brothers High School in Sacramento and attended St Mary's College of California, where he continued to excel in sports. Marty joined the San Francisco Seals of the Pacific Coast League in 1934.
In 1935, he starred in the Coast League's pennant play-off and was the league's batting champion in 1936 with a .358 average. Marty joined the Chicago Cubs the following season. He hit .290 in 88 games in 1937. In 1938, Marty was the first Chicago Cubs' player to hit a home run in a night game, achieving the feat on July 1 at Cincinnati. In the 1938 World Series he drove in five of the nine runs in the Cubs' loss to the New York Yankees.
The Cubs traded the 25-year-old outfielder to the Phillies in May 1939. After a slow start in Philadelphia, Marty batted .270 in 123 games with 13 home runs in 1940. He hit .268 in 1941 and it was to be his last season in the major leagues.
Marty went to enlist with the Marines immediately after Pearl Harbor, but it turned out he was color blind so he enlisted in the Air Force. He served with the Army Air Force at Mather Field, 12 miles east of Sacramento. Sergeant Marty was the player-manager of the Mather Field Flyers in 1942 and 1943. The team's line-up featured many minor league players and was joined by former Reds' pitcher Tony Freitas and White Sox outfielder Myril Hoag in 1943.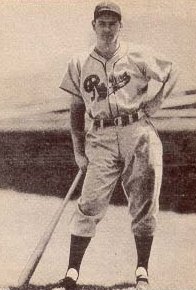 On June 5, 1943, Marty played in an all-star Army-Navy game at Seals Stadium, San Francisco. The Navy line-up included Cookie Lavagetto and Ferris Fain. The Army team, in addition to Marty, included Myril Hoag and Walt Judnich. The following month, on July 13, Marty was part of the Service Baseball Stars team that played against a combined San Francisco-Oakland PCL team. Managed by Lieutenant Charlie Gehringer and highlighted by Marty's triple, the service stars won 14-3.
On Christmas Day 1943, Marty was involved in an automobile accident. He suffered a leg injury that became infected and remained in the Mather Field Hospital thru January 1944.
Mather Field dropped baseball for 1944, but Marty arranged pick-up games against local teams and his 1944 line-up included Alex Kampouris and well-known western Nevada pitcher, Wes Bailey.
On August 26, 1944, Marty played for the Army All-Stars against a combined Hollywood-Los Angeles PCL team. The Army line-up included Gerry Priddy, Alex Kampouris and Nanny Fernandez. Marty had three hits including a first inning triple in the 16-6 servicemen's' victory.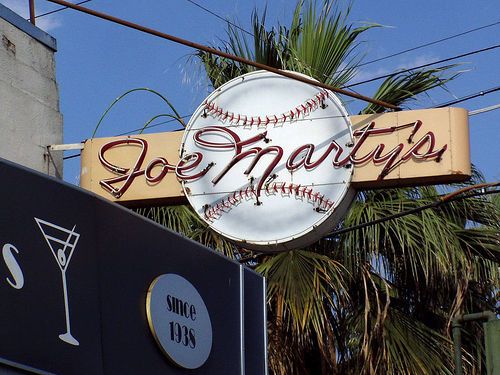 In September 1944, Marty was relocated to Fairfield-Suisun Army Air Base near San Francisco, where he played alongside Johnny Beazley and Jerry Priddy with the Air Transport Command Skymasters.
In 1945, Marty was at Hamilton Field, California, playing for the Hamilton Field Fliers with Joe Gordon. He then left for the Pacific, touring advanced military bases and playing exhibition games with the 58th Wing alongside Bobby Adams, Enos Slaughter and Joe Gordon. He was at Tinian when the atomic bomb was loaded on the Boeing B-29 Superfortress.
Joe Marty returned home in November 1945. He joined the Phillies for spring training in 1946 but had missed four seasons and was now 31 years old. Slowed by a knee injury he was released on April 29 and returned home to Sacramento, California where he had opened a bar and restaurant in 1938. Marty played for the PCL's Sacramento Solons between 1946 and 1952. He batted over .300 in five consecutive seasons
Joe Marty passed away on October 4, 1984 in Sacramento, California. He was 71 years old and is buried at St Mary's Catholic Cemetery, Sacramento.
After his death, the restaurant continued operation under new ownership, until a fire destroyed the building on June 25, 2005.
Created March 17, 2007. Updated April 13, 2007.
Copyright © 2007 Gary Bedingfield (Baseball in Wartime). All Rights Reserved.