Go on, why not sponsor this page for $5.00 and have your own message appear in this space.


Click here for details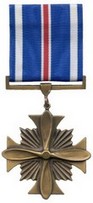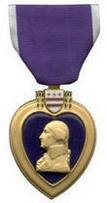 Jim Martin
Date and Place of Birth: August 25, 1920 Rockingham County, North Carolina
Died: June 30, 2008 Mayodan, North Carolina
Baseball Experience: Minor League
Position: Second Base
Rank: Second Lieutenant (retired with rank of Major in 1963)
Military Unit: 421st Bomb Squadron, 504th Bomb Group, 20th Air Force USAAF
Area Served: Pacific Theater of Operations
James P "Jim" Martin was born on August 25, 1920 in Rockingham County, North Carolina. He signed with the New York Giants organization in 1942 and played for the Oshkosh Giants of the Wisconsin State League that year. The second baseman batted .279 with 42 RBIs in 65 games.
It was to be his only season as a professional baseball player as he was admitted to the junior college division of Oak Ridge Military Institute in North Carolina. On April 17, 1943, he entered military service with the Army Air Force and served as a navigator and bombardier.
Second-Lieutenant Martin was stationed at North Field on the Pacific Island of Tinian with the 421st Bomb Squadron, 504th Bomb Group of the 20th Air Force in 1945. On May 29, 1945, Martin was part of Captain Marcus Worde's crew aboard the Boeing B-29 Superfortress "Sitting Pretty" that was shot down over Yokohama, Japan. It was their 17th mission and all crew members parachuted to safety and were held at Ofuna Prison Camp in Tokyo for the remainder of the war.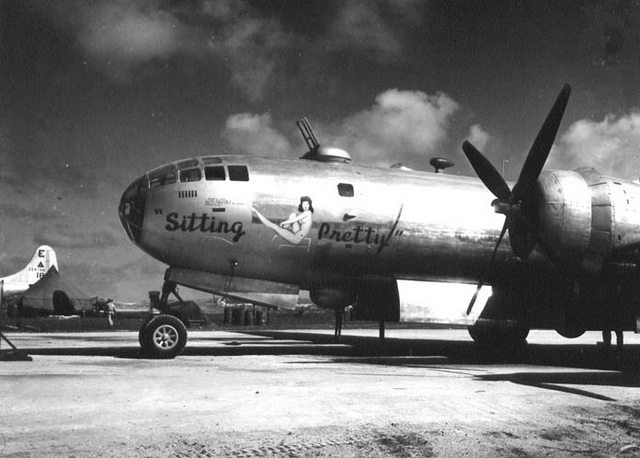 Boeing B-29 Superfortress "Sitting Pretty" 42-24814. Second-Lieutenant Jim Martin was a navigator/bombardier aboard this
plane when it was shot down over Yokohama, Japan on May 29, 1945.
Martin returned home to North Carolina in late 1945 with a Purple Heart and Distinguished Flying Cross. He did not return to baseball but again served his country in 1951, flying 55 missions in the Korean War. He remained in the Air Force and retired from the Strategic Air Command in 1963 with the rank of major.
Martin began teaching at Martinsville High School in Virginia in 1964 – a position he held for 19 years that included a tenure as head coach of the Martinsville High School Bulldogs baseball team.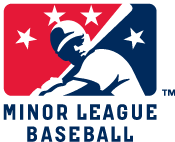 Jim Martin passed away on June 30, 2008 in Mayodan, North Carolina. He was 87.
Added July 3, 2008.
Copyright © 2008 Gary Bedingfield (Baseball in Wartime). All Rights Reserved.