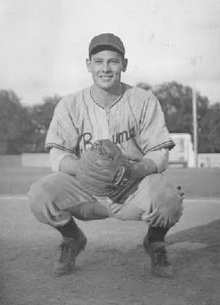 Francis O "Frank" Mancuso was born on May 23, 1918 in Houston, Texas, the youngest of seven children.
His brother, Gus Mancuso, thirteen years Frank's senior, was a major league catcher whose career began with the Cardinals in 1928. After graduating from Milby High School, Frank Mancuso followed his brother into professional baseball.
Gus Mancuso was a first-string catcher with the New York Giants when Frank signed with the organization in 1937. After hitting .417 for the Fort Smith Giants of the Western Association in 1938, the Giants moved him up to their roster for the entire 1939 season as a third string catcher. He didn't get into a single game in 1939 but the experience he gained as part of this outstanding team was invaluable.
He hit .317 with 18 home runs for the St Joseph Saints of the Western Association in 1940, and remained in the league for 1941 batting .300 and hitting 15 home runs. Now a part of the St Louis Browns' organization, Mancuso was with the San Antonio Missions in the Texas League in 1942 and batted .270.
On December 21, 1942, Mancuso entered military service. He entered Officers' candidate School at Fort Benning, Georgia, and was commissioned a second lieutenant. Mancuso trained as a paratrooper. "I liked the thought of the parachute troops," he told The Sporting News on March 30, 1944, "and beside, you get $100 a month extra."
Mancuso completed four training jumps successfully but his fifth nearly ended in his fatality. "You must have five jumps from a plane to qualify as a jumper," he explained. "We were going through a maneuver designed to simulate actual combat conditions. There were three planes in the group, flying in V formation and lower than a height from which we had ever jumped before.
"I was standing at the door of the plane, trying to pick out a good place for the jump, as it is an officer's duty to do, when the green light flashed, notifying us to leap.
"Instead of going out feet first, as I should have, I simply tumbled out head-first and my chute shot out over my head. As it opened my left foot became tangled in the guide lines. I must have fallen about 600 feet when the chute opened. I was lying flat with my left leg tangled and when the silk ballooned, it was just like a truck hitting me.
"I looked up and saw that everything was alright if I could just untangle my leg. I worked at it with my right leg, then got that tangled, too, and that's the way I was when I landed in some short trees.
"Doctors were on the scene immediately and I told them the only thing that bothered me was my left knee. However, they insisted the leg was broken below the knee.
"Anyway, I was sent to the hospital until I recovered. While I was there, an x-ray photograph showed a peculiar formation in my spine, for which I was discharged from the service after I left the hospital."
Mancuso's discharge came on February 3, 1944. He rejoined the St Louis Browns for spring training and was their opening day catcher against Detroit on April 18, 1944. He struggled to hit in his rookie season and split duties behind the plate with Red Hayworth, but the St Louis Browns scampered to their first and only American League pennant.
Mancuso appeared in two World Series games against the Cardinals and collected an impressive two hits in three at-bats although the Browns were unable to withstand the might of the Cardinals and lost the series in six games.
Mancuso played 119 games for the Browns in 1945 and batted a respectable .268 with 38 RBIs. He hit .240 in 87 games in 1946 and was traded to the Senators in December. He played 43 games with Washington and batted .229 in 1947.
In 1948, Mancuso was back in the minors for the first time since 1942. Playing for Toledo, Beaumont and Houston he remained in the minors until 1955.
"My biggest problem from the army injury was looking straight up into the sky for foul balls behind the plate," Mancuso recalled some years later. "I never regained all of my mobility after the parachute jump."
After baseball, Mancuso served for 30 years (1963 to 1993) on the Houston City Council. Almost certainly the longest continuous tenure of any elected city official in Houston history.
In 1990, Harris County built the Frank Mancuso Sports Complex, a facility that strategically reaches out to the needs of inner city kids, in his honor.
After losing his 1993 re-election campaign - at age 75 - Mancuso listed some of his proudest accomplishments: his support for the creation of Lake Livingston and Lake Conroe to meet the city's long-term water needs, his support for construction of Houston Intercontinental Airport, and chairmanship of a special committee that recommended the Houston Fire Department have its own ambulance service.
In 2003, Mancuso was inducted into the Texas Baseball Hall of Fame. "Frank Mancuso was more than just another local ballplayer," said Bill McCurdy, Board President of the Texas Baseball Hall of Fame recently. "He was a man of integrity who also did much to help the citizens of Houston during his 30 years on the Houston City Council. Houston needs to be reminded of the people who have really given back to the community - and Frank Mancuso was such a special person in that regard."
Frank Mancuso suffered a heart attack in June. He passed away on August 4, 2007 at a Pasadena, Texas, rehabilitation center. He was 89 years old.
Created August 16, 2007.
Copyright © 2008 Gary Bedingfield (Baseball in Wartime). All Rights Reserved.