Date and Place of Birth: October 14, 1915 Pensacola, Florida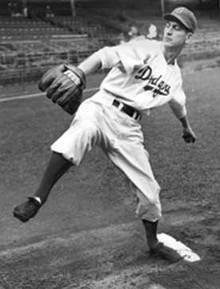 Max C Macon was born in Pensacola, Florida on October 14, 1915. He signed with the St Louis Cardinals in 1934 and was 15-11 with Hutchinson in the Western Association. He joined Bloomington of the Three-I League in 1935 and had an impressive 19-7 record but also hit .265 with 17 RBIs as a part-time first baseman and outfielder.
He was promoted to Columbus of the American Association in 1936 and had a 12-12 record, followed by a 21-12 record in 1937 with a 3.46 ERA and a .357 batting average.
He joined the Cardinals in 1938, and made his debut on April 21. In 38 games he was 4-11 with a 4.11 ERA. Macon was back at Columbus in 1939 and was purchased by the Brooklyn Dodgers in September. He pitched for the Montreal Royals of the International League in 1940, and made two relief appearances for the Dodgers.
Back at Montreal in 1941, Macon was given another chance by the Dodgers in 1942 and made 14 appearances for a 5-3 record and impressive 1.93 ERA. He was 7-5 with Brooklyn in 1943 but also played three games at first base.
In 1944, Macon joined the Boston Braves, primarily as a first baseman-outfielder. He played a career-high 106 games and batted .273 with 36 RBIs.
Macon entered military service with the Army after the 1944 season concluded. He was originally based at Fort McClelland in Alabama, and then transferred to Fort Meade, Maryland in April 1945. While at Fort McClelland, Private Macon was hospitalized for 29 days from injuries suffered in a dynamite explosion.
Macon did not return to professional baseball until the 1947 season. He played just one game with the Boston Braves, pitching two scoreless innings in relief on April 17, and spending the rest of the season with Milwaukee where he batted .307.
Macon continued to play in the minor leagues into the 1950s and this time was highlighted by his 1951 season with Hazard in the Mountain States League, when he hit .409 with 17 home runs and 148 RBIs.
From 1956 to 1959, he managed St Paul in the Dodgers' organization before becoming a scout. Living in Louisville, Kentucky, Macon also became well known as a high school and college basketball referee.
Max Macon moved back to Florida in 1966, and passed away on August 5, 1989 in Jupiter, Florida. He was 73.
Created December 13, 2007.