"Lyons has been one of our outstanding officers here at navy pier," Hill said. "He has done a splendid job with the men."
Theodore A "Ted" Lyons was born in Lake Charles, Louisiana on December 28, 1900. He attended Baylor University, where he was an outstanding pitcher and football end. Upon graduation in 1923, he signed with the Chicago White Sox for $300 a month and a $1,000 bonus. He joined the team in St. Louis on July 2 and made a relied appearance that day, retiring the three St Louis Browns' hitters he faced.
By 1924 he was a regular starter. In 1925 he led the American League in victories with 21. He threw a no-hitter against the Boston Red Sox on August 21, 1926. In 1931, he hurt his throwing arm and lost his fastball but developed a knuckleball and was soon pitching effectively again.
Lyons was such a draw among the White Sox fans that, as his career began to wind down in 1939, manager Jimmy Dykes began using him only in Sunday afternoon games, which earned him the nickname "Sunday Teddy". At the age of 41, he had an excellent season in1942, leading the league with a 2.10 ERA and completing every one of his 20 starts.
Lyons enlisted in the Marine Corps at the beginning of 1943, and ttook his basic training at Quantico, Virginia. "What a change from baseball this is," he told reporters. "I get up at 6am instead of 9, the way I used to. Why, do you know, that's 21 hours of sleep a week I'll never catch up on."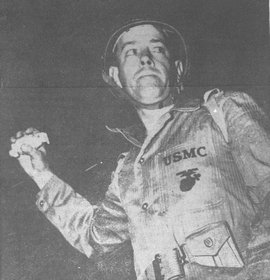 Lyons graduated from reserve officer's class at Quantico on April 7, 1943 and reported to Navy Pier in Chicago the following day. Navy Pier extended nearly a mile into Lake Michigan off downtown Chicago, and was used to train pilots. When asked by reporters if his pitching arm was in shape, Lyons said "I would be ready to go a full game if I could throw a few to Mike Tresh" (White Sox catcher).
On June 30, 1943, Lyons led a Marines detachment drill at Comiskey Park before the White Sox played Washington. "I suppose if the war lasts three or four more years I'll have to give up the idea of pitching again," Lyons told reporters who asked about his chances of pitching in the majors again. "But if I can get back before then, I may have a few years of active play in me, unless I'd get knocked out right away by a line drive from one of these new rabbit balls they're bringing in."
Lyons left Navy Pier in August 1943, and was assigned to Camp Pendleton in San Diego, California. Pitching for the Camp Pendleton Marines, Lyons was beaten, 4-1, by Red Ruffing of the Sixth Ferrying Group, for West Coast Service team championship on October 10, 1943.
Lyons was promoted to captain and sent to the Pacific Theater in April 1944. In response to a request from Lyons, Chicago manager, Jim Dykes, shipped two dozen White Sox caps to the fighter pilots in his sector. Dykes also included Lyons' shirt, with the familiar "16," on the back.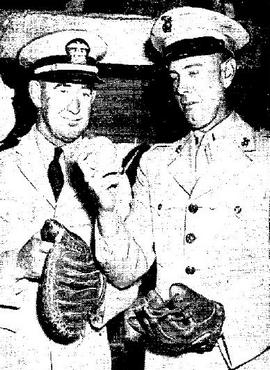 Lyons with Mickey Cochrane
By June 1945, Lyons was manager of a Marine flyers team in Hawaii and promised to do some pitching "if I can get my arm in shape to do any good."
He was discharged in December 1945 and the White Sox offered the 45-year-old a position on the team as a coach. Lyons, however, turned down the offer and chose instead to remain on their roster as a player.
He made five starts for the White Sox in 1946, and posted a 1-4 record with a 2.32 ERA, before taking over managerial responsibilities from Jimmy Dykes on May 24.
Lyons remained at Chicago's helm through 1948. He served as a pitching coach for the Detroit Tigers from1949 to 1952 and the Brooklyn Dodgers in 1954.
Ted Lyons was inducted in to the Baseball Hall of Fame in 1955. He remained in baseball as a scout until retiring in 1966 to help his sister manage a rice plantation in Louisiana. He died at a nursing home in Sulphur, Louisiana on July 25, 1986. He was 85 years old.
Created January 18, 2007.
Copyright © 2008 Gary Bedingfield (Baseball in Wartime). All Rights Reserved.

Baseball in Wartime Store

Visit the Baseball in Wartime Store for
t-shirts, sweatshirts and more...

click here