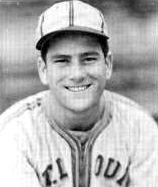 John "Johnny" Lucadello was born on February 22, 1919 in Thurber, Texas. He and his brother, Tony, both signed with the St Louis Cardinals in 1936 and were assigned to Fostoria of the Ohio State League. Johnny was just 17 and played the outfield, his brother was 24 and a shortstop.
In 1937, Johnny was sent to the St Louis Browns' Fairbury club of the Nebraska State League, where he converted to a second baseman, while Tony stayed in the Ohio State League with the Tiffin Mud Hens, a Detroit Tigers' farm team.
Tony Lucadello quit baseball as a player after the 1937 season. He later served as a scout with the Cubs and Phillies. Meanwhile, Johnny's career flourished. He batted .318 with Johnstown of the Class C Middle-Atlantic League in 1938 and made the huge jump to the major leagues in September, appearing in seven games with the St Louis Browns. At 19, he was the youngest player in the American League that year.
Lucadello spent most of 1939 with San Antonio of the Texas League and was with Toledo of the American Association in 1940, batting .334 and driving in 102 runs. In 1941, Lucadello joined the Browns as a utility infielder and batted .279 in 107 games.
On March 14, 1942, Lucadello entered military service with the Navy. As a coxswain, he was stationed at Great Lakes Naval Training Station in 1942 and 1943, where he was the commander of a recruit company. In addition to played for the Great Lakes teams, he appeared as a pinch hitter for the Service All-Stars against the American League All-Stars at Cleveland on July 7, 1942. At the end of 1943 he was sent to Hawaii and played for the Aiea Barracks team, being named as second baseman for the 14th Naval District All-Star team. Lucadello also played in the 1944 Service World Series and participated in the Navy's Western Pacific Tour.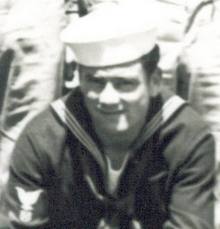 At the conclusion of the tour, he was sent to Tinian and then Runit, Eniwetok Atoll, Marshall Islands, where his duties included master-at-arms work, sports activities and general entertainment.
Lucadello was discharged from service on October 16, 1945. He returned to the Browns for 87 games in 1946, but batted only .248 and was selected off waivers by the New York Yankees. He played just 12 games with the Yankees in 1947 in what was to be his last year in the major leagues. He was with Newark in 1948, Kansas City in 1949 and had stops in the Pacific Coast League, Southern Association, Mississippi-Ohio Valley League and Big State League before retiring after the 1955 season.
Johnny Lucadello, who was later inducted into the All Sports Hall of Fame in Chicago, passed away on October 30, 2001 in San Antonio, Texas. He was 81.
His brother, Tony, who had served as a scout for 47 years and was named major league scout of the year in 1987, died from a gun shot wound outside the Meadowlark ballpark in Fostoria, Ohio in May 1989. He was 76.
Created April 23, 2008.