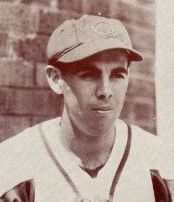 Harry L "Peanuts" Lowrey was born on August 27, 1918 in Culver City, California, and grew up on the fringe of the motion picture industry appearing in a number of Our Gang comedies. He was signed by the Chicago Cubs as a shortstop in 1937 and played for Moline of the Three-I League his rookie year batting .304 in 45 games.
In 1938, he was at Ponca City of the Western Association and joined St Joseph of the same league in 1939, where he batted .344 and drove in 108 runs. Lowrey advanced to Tulsa in 1940 and found himself with Los Angeles of the Pacific Coast League for the remainder of the year where he began playing the outfield. In 1941, Lowrey batted .311 with Los Angeles and made his major league debut with the Chicago Cubs on April 14, 1942.
Lowrey became a Cub regular in 1943, appearing in 130 games and batting .292. His 12 triples and 13 stolen bases were both second in the American League that year.
On April 15, 1944, Lowrey entered military service with the Army at Fort Custer, Michigan, home to the Military Police Officers Candidate School. Lowrey was player-manager with the Military Police baseball team during the summer of 1944. His military service did not last long, however, as he received a medical discharge after six months on October 13, 1944, due to weak knees.
Lowrey was back with the Cubs in 1945 and batted .283. He was an all-star in 1946 and remained with the Cubs until traded to the Reds in 1949. Lowrey became one of the game's premier pinch hitters in the twilight of his career with the Cardinals and Phillies. He retired as a player after 1955 and managed in the minors with New Orleans, Austin and Idaho Falls. In 1960, he joined the Phillies as their third-base coach and moved over to San Francisco in 1967. In 1969, he coached with the Expos, the Cubs in 1970 and 1971, the Angels in 1972, and back with the Cubs from 1977 to 1981.
Peanuts Lowrey died of congestive heart failure on July 2, 1986 in Inglewood, California. He was 67.