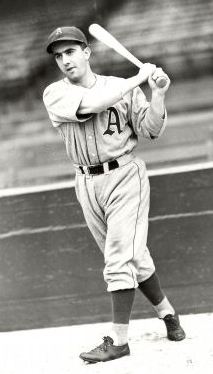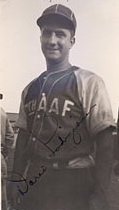 Dario A Lodigiani was born on June 6, 1916 in San Francisco, California. Lodigiani, who grew up with Joe and Dom DiMaggio, excelled in all sports at Galileo High School and began playing semi-pro baseball before being signed as a second baseman in 1935 by Oakland of the Pacific Coast League.
After batting .327 with 18 home runs and 84 RBIs in 1937, he was traded to the Philadelphia Athletics and made his major league debut on April 13, 1938. Lodigiani played 93 games that year and batted a respectable .280. In 1939 he made 121 appearances, the majority of which were at third base, and batted .260.
Lodigiani found himself back in the minors in 1940, playing 143 games and batting .281 with Toronto of the International League. He was traded to the White Sox for Jack Knott at the end of the year and played two seasons as a utility infielder before entering military service with the Army Air Corps on March 3, 1943.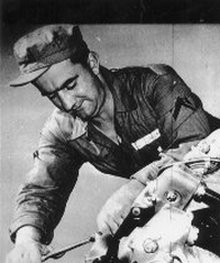 He was stationed at McClellan Field, California in 1943 and was sent to Hickam Field, Hawaii in 1944, where he played baseball for the 7th Army Air Force team alongside his pal, Joe DiMaggio. Lodigiani also played in the Army-Navy Service World Series in Hawaii that year.
In July 1945, Sergeant Lodigiani played for the 73rd Bomb Wing Bombers on the 20th Air Force tour of Pacific Islands. The Bombers, managed by Buster Mills, were based at Isley Field, Saipan and played round-robin competitions against Birdie Tebbett's 58th Bomb Wing and Lew Riggs' 313th Bomb Wing. The Bombers, with a line-up that featured Sid Hudson, Tex Hughson, Stan Rojek and Mike McCormick, won nine of 11 games on the Marianas Island leg of the tour.
Lodigiani was discharged from service on November 16, 1945 and rejoined the White Sox in 1946. He played 44 games before being hit in the elbow by a Denny Galehouse pitch that ended his season and subsequently ended his major league playing days. He returned to the Pacific Coast League and again played for Oakland, helping them to a championship, and went on to play for San Francisco, Yakima and Ventura. He later managed in the Northwest League and California League, and was a coach with the Kansas City Athletics in 1961 and 1962.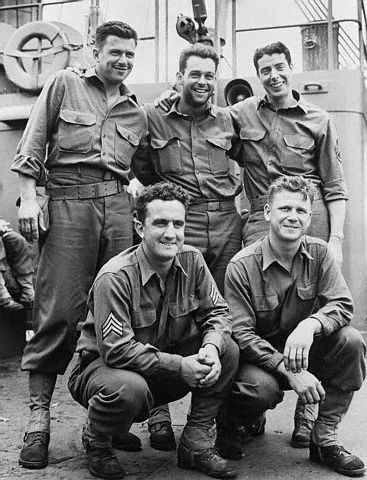 Lodigiani (front row on left) on his way to Hawaii in 1944 with Walt Judnich, Mike McCormick and Joe DiMaggio (back row) and Jerry Priddy (front right)
He also coached for the Chicago White Sox before becoming a scout for the team. Dario Lodigiani was still employed with the Chicago White Sox when he passed away on February 10, 2008 in Napa, California.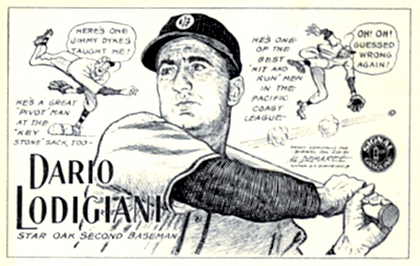 Created March 31, 2008.