Bill Lobe
Date and Place of Birth: March 24, 1912 Cleveland, Ohio
Died: January 7, 1969 Cleveland, Ohio
Baseball Experience: Major League Coach
Position: Catcher
Rank: Sergeant
Military Unit: US Army
Area Served: European Theater of Operations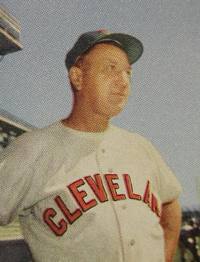 William C "Bill" Lobe, who explained in an interview many years ago, "I'm nuts about baseball," grew up around the Cleveland Indians. His affiliation with the team began as a batboy while he was still at grammar school in 1927. He later became a groundsman and in April 1939, was retained as batting practice and bullpen catcher.
In 1939, at the age of 27, Lobe was activated as a catcher and caught a spring exhibition game for the Indians. With a shortage of catchers in their organization that summer, the Indians activated Lobe as a minor league player and assigned him to Springfield of the Middle-Atlantic League, where he batted .183 in 36 games. In 1940 he was at Warren of the Pennsylvania State League where he averaged .170, and in 1941 he played for Thomasville in the North Carolina State League where he hit .213 in 62 games.
Lobe entered military service on March 11, 1942 at Camp Perry Lacarne, Ohio. In June he was moved to Fort Francis E Warren in Wyoming, and from there to Camp Barkeley in Texas, where he was the first-string catcher for the Camp Barkeley All-Stars. The All-stars finished the 1942 season with a 33 and 4 record and were the surprise state semi-pro champions. In the summer of 1943, Sergeant Lobe took over the coaching duties for the Camp Barkeley team, guiding them to the state semi-pro finals. He was stationed in England in 1945, and on June 10, Lobe was a member of the UK All-Stars military team in London, playing alongside Ted Kleinhans and Paul Campbell.
He returned to the Indians in 1946 and became the club's batting practice catcher. He joined the team's coaching staff in 1951. "I couldn't hit enough to play pro ball," Lobe explained in a 1952 interview, "I could hit well enough on the sandlots but not in the minors. Maybe it was just as well. Maybe I wouldn't have the job I've got today."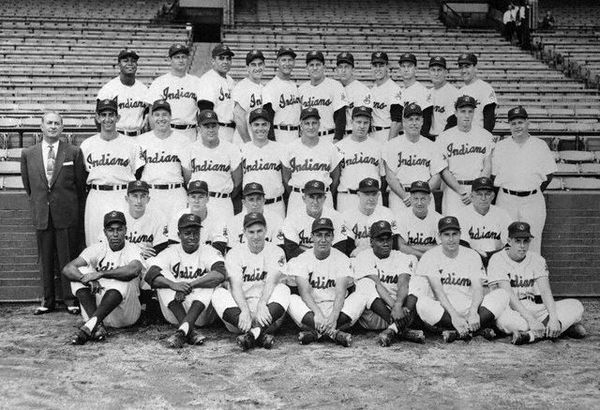 Cleveland Indians of 1954. Bill Lobe is second row, sixth from left
On September 25, 1953 he married Olga Dolsak at St Peter's Catholic Church in Cleveland with many of the Indians' players and coaches present. Lobe remained on the Indians' coaching staff until 1956. He was a scout with the team between 1959 and 1963.
Bill Lobe was 56 when he passed away at his home in Cleveland, Ohio on January 7, 1969.
Created June 19, 2007.
Copyright © 2007 Gary Bedingfield (Baseball in Wartime). All Rights Reserved.