Go on, why not sponsor this page for $5.00 and have your own message appear in this space.


Click here for details



Walter Lentz
Date and Place of Birth: September 30, 1917 North Carolina
Died: February 18, 2001 North Carolina
Baseball Experience: Minor League
Position: Pitcher
Rank: Staff Sergeant
Military Unit: 45th Bomb Squadron, 40th Bomb Group USAAF
Area Served: China-Burma-India Theater of Operations
Walter R Lentz was born in North Carolina on September 30, 1917. He was pitching with Statesville in the Tar Heel League in 1940, and was 13-8 in the North Carolina League in 1942.
Lentz entered military service on September 29, 1942 at Camp Croft, South Carolina. He trained as an aerial gunner and soon found himself stationed in the China-India-Burma Theater with the 45th Bomb Squadron of the 40th Bomb Group.
Staff Sergeant Lentz served as a gunner as part of Captain Robert Shanks' crew aboard a Boeing B-29 Superfortress. On December 14, 1944, the target was to be the Rama VI Railroad Bridge at Bangkok, Thailand. On arriving at Bangkok the railroad bridge was found to be obscured by cloud cover to such an extent that it was impossible to bomb visually. As there were neither fighters or flak in the area two bombing runs were made before it was decided to turn back and bomb the secondary target at Rangoon, the Central Railroad Station and Yards.
An excellent bombing run was made at an altitude of 20,000 feet. 'Bombs away' was at 0444. A few seconds later there was a tremendous explosion which literally blew the formation apart. Captain Robert Shanks' Superfortress, was badly damaged, but at the insistence of Colonel Cornett, Captain Shanks managed to fly the crippled bomber about 100 miles west of Rangoon.
At that time he called the Formation Commander and stated that it was impossible to continue and that they were going to bail out.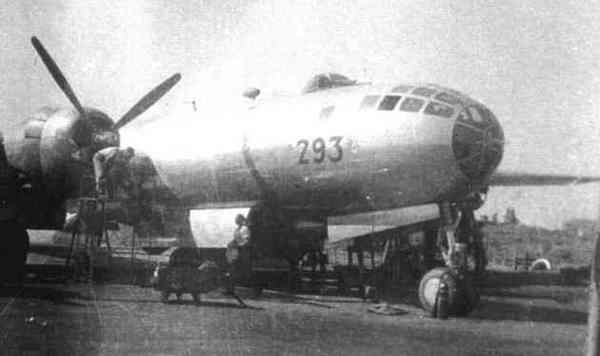 Boeing B-29 Superfortress "293" that was severely damaged on December 14, 1944, forcing Staff Sergeant Walter Lentz and his ten crewmates to bail out over enemy territory.
Eleven airmen, including Staff Sergeant Walter Lentz were taken prisoner by Japanese troops. They were held at the Rangoon Prisoner of War Camp and released five months later on May 9, 1945.
Lentz returned home later in the year and decided to pursue his pitching career. He joined the Tulsa Oiler of the Texas League in 1946, and despite a shaky outing in spring training when he was one of many Tulsa pitchers who allowed the St Louis Cardinals to collect 20 hits in a 14-0 exhibition thrashing, he made the team. Walter Lentz appeared in 38 games for the Oilers and had a 6-4 won-loss record and a 3.46 ERA.
Walter Lentz passed away on February 18, 2001 in North Carolina. He is buried at Blue Ridge Cemetery in Lenoir, North Carolina.
Information on the 45th Bomb Group is available at http://www.40thbombgroup.org
Created June 30, 2007.
Copyright © 2007 Gary Bedingfield (Baseball in Wartime). All Rights Reserved.