Date and Place of Birth: October 4, 1922 Alton, Illinois
Died: July 9, 2014 Chesterfield, Missouri
Baseball Experience: Major League
Position: Outfield
Rank: Unknown
Military Unit: Naval Armed Guard Unit, US Navy
Area Served: European and Pacific Theaters of Operation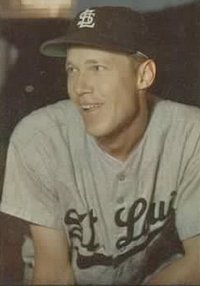 Donald E "Don" Lenhardt was born on October 4, 1922 in Alton, Illinois. In September 1941, Lenhardt enrolled at the University of Illinois with baseball and basketball scholarships. While there he was scouted by the St Louis Browns but joined the Navy in January 1942.
Lenhardt left the University of Illinois to join the Navy in January 1942. He served as part of a Naval Armed Guard Unit on Merchant ships that were transporting supplies for the war effort. He spent time in the North Atlantic, was often in London and also served in the Pacific Theater.
Upon discharge from the service in 1945 he enrolled at Washington University in St Louis, Missouri. In 1946 he was signed by the St Louis Browns and joined Pittsburg of the Class D KOM League. The 23-year-old outfielder batted .368 BA with 58 RBIs and earned promotion to Aberdeen of the Class C Northern League towards the end of the season.

With Aberdeen in 1947, he batted .303 and moved up to the San Antonio Missions of the Texas League for 1948. Lenhardt batted.258 with 26 home runs and 78 RBIs in 1949 and joined the St Louis Browns in 1950.
In his rookie major league season, Lenhardt hit .273 with 22 home runs and 81 RBIs in 139 games. Although he never equaled that performance again he played a further four seasons with the White Sox, Red Sox, Tigers and Orioles.
Lenhardt worked for the Red Sox after his playing career ended as a minor league hitting instructor, Midwest scout and, from 1970-1973, as first base coach. He retired from the Red Sox organization aged 72.
Don Lenhardt lives in St Louis, Missouri.
Thanks to Don and Isabelle Lenhardt for help with this biography.
Created May 26, 2007. Updated January 3, 2015
Copyright © 2015 Gary Bedingfield (Baseball in Wartime). All Rights Reserved.