Garland Lawing
Date and Place of Birth: August 29, 1918 Gastonia, North Carolina
Died: September 27, 1996 Murrells Inlet, South Carolina
Baseball Experience: Major League
Position: Outfield
Rank: Unknown
Military Unit: 71st Infantry Division US Army
Area Served: European Theater of Operations
After being turned down twice by Army doctors, Garland (Butch) Lawing, Birmingham outfielder, was accepted on his third try and is now in Uncle Sam's Army. Lawing was off to a great start in his first year in Class A-1 ball and his leaving was a tough blow to the Barons.
The Sporting News June 3, 1943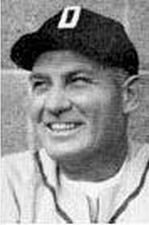 Garland F "Butch" Lawing was born on August 29, 1918 in Gastonia, North Carolina.
An outfielder with an exceptionally strong throwing arm, Lawing was with the Columbia Reds in the South Atlantic League in 1942. He was sent up to the Birmingham Barons of the Southern Association in 1943 and was one of the league's leading hitters when, on his third attempt, he was accepted for military service with the Army at Camp Croft, South Carolina on May 24, 1943.
Lawing was with the 71st Infantry Division and served in Europe. He played for the 71st Infantry Division Red Circlers baseball team after the cease of hostilities in Europe.
The 71st Red Circlers team featured Ewell Blackwell, Bob Ramazzotti, Ancil Moore, Johnny Wyrostek, Ewell Blackwell, Russ Kern, Milt Ticco, Herb Bremer and Bill Ayres. The Red Circlers clinched a five-game Third Army Championship Series in August 1945 against the National League division winners - the 76th Infantry Division Onaways - to move on to the ETO World Series against the OISE All-Stars from France.
In front of crowds of 50,000 at Soldier's Field in Nurnberg, Germany, the Red Circlers won the first game on September 2, 9-2. The Red Circlers were beaten by Negro League star Leon Day in the second game, and lost 2-1 in game three on September 6. In the decisive fifth game the Red Circlers were again beaten 2-1 on a combined effort by Sam Nahem and Bobby Keane.
Lawing returned to the Cincinnati Reds organization after the war and made his major league debut for the Reds on May 29, 1946. He played just two games and was hitless in three at-bats before being sold to the New York Giants on June 8. Lawing made eight appearances with New York and got two hits in 12 at-bats.
Although he never played again at the major league level, Lawing continued to pursue a career in baseball. He was with the Quebec Braves of the Canadian-American League in 1949 and won the Triple Crown with a .346 batting average, 19 home runs and 141 RBIs, with the pennant-winning 1950 Quebec team.
At the age of 37, Lawing was still playing baseball, and hit .307 with 19 home runs for Dickinson in the semi-pro Man-Dak League in 1956.
Garland Lawing passed away on September 27, 1996 at Murrells Inlet, South Carolina. He was 78 years old.
Created June 7, 2007.
Copyright © 2007 Gary Bedingfield (Baseball in Wartime). All Rights Reserved.