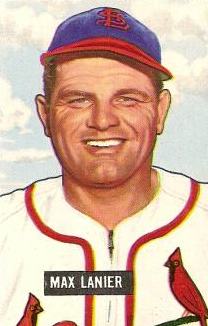 Hubert M "Max" Lanier was born on August 18, 1915 in Denton, North Carolina. An outstanding pitcher for the Bossong Hosiery Mill team in Asheboro, North Carolina, he signed with the St Louis Cardinals in 1937 and was 10-4 with a 3.06 ERA for Columbus of the American Association his rookie year.

He made his debut with the Cardinals the following spring and pitched in 18 games for a 0-3 record and 4.20 ERA. Lanier spent 1939 between Columbus and St Louis but joined the Cardinals pitching staff as a regular in 1940.

Lanier was 13-8 in 1942 and won a World Series game against the Senators. In 1943, he was 15-7 with a 1.90 ERA and won a career-high 17 games in 1944. The two-time all-star appeared in just four games in 1945 before military service beckoned on May 24. Private Lanier was with the Army at Fort Bragg in North Carolina, where he regularly pitched for the ball team. He injured his arm pitching throwing against Tommy Holmes' All-Stars in October 1945, and received an unexpected early discharge from service in late-October.

Criticism and speculation surrounded his early release, but this finally cleared up by the War Department. "A report has been received from the appropriate commander in the field," the department announced in December 1945, "stating that Private Lanier was discharged by reason of dependency after his application and all supporting evidence were reviewed by a board of four officers."

He was back with the Cardinals in 1946 although a contract dispute created more controversy. Nevertheless, Lanier got off to an incredible start, winning his first six starts – two of which were shutouts – for a 1.93 ERA. But during a road trip to New York, he met Jorge Pasquel, who owned a baseball league by Commissioner Happy Chandler. Lanier returned from Mexico in 1947 and played in Cuba and Canada for being reinstated in organized baseball and rejoining the Cardinals in 1949.

Lanier had back-to-back 11-9 records in 1950 and 1951. He was traded to the New York Giants in 1952 and was with the St Louis Browns in 1953. He later became a

coach and manager in the minor leagues, until suffering a heart attack in 1968 and retiring to Florida.

His son, Hal Lanier, was an infielder with the Giants and Yankees between 1964 and 1973.

Max Lanier passed away on January 30, 2007 in Dunnellon, Florida. He was 91 years old.
Created February 19, 2008.