The St. Louis Browns Historical Society Official Website
a Mileur Media Group website at www.thestlbrowns.com
Ray Mileur, Publisher

Jack Kramer
Date and Place of Birth: January 5, 1918 New Orleans, Louisiana
Died: May 18, 1995 Metairie, Louisiana
Baseball Experience: Major League
Position: Pitcher
Rank: Seaman Third Class
Military Unit: Construction Battalion US Navy
Area Served: United States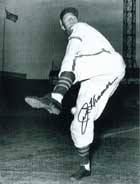 John H "Jack" Kramer began his pro career with Lafayette of the Evangeline League in 1936. He won 20 games with San Antonio in 1938 and joined the Browns the following year.
Kramer sat out the 1942 season to take a war plant job and later joined the Seabees (Construction Battalion) but received a medical discharge because he suffered from asthma.
Back in baseball, the Browns sent him to Toledo in 1943 where he won eight straight games and hurled a no-hitter. He rejoined the Browns and was 17-13 during the American League pennant-winning 1944 campaign.
Kramer remained in the majors until 1951. He had a career high 18 wins with the Red Sox in 1948.
Jack Kramer passed away in Metairie, Louisiana on May 18, 1995. He was 77.
Created November 17, 2007.
Copyright © 2008 Gary Bedingfield (Baseball in Wartime). All Rights Reserved.