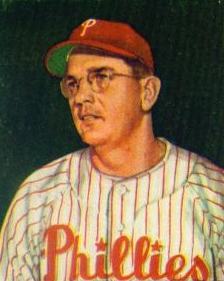 Casimir J "Jim" Konstanty was born on March 2, 1917 in Strykersville, New York. A 1939 physical education graduate of Syracuse University, where he earned letters in baseball, basketball, boxing and soccer, Konstanty didn't enter professional baseball until 1941 when he signed for Springfield of the Eastern League. His rookie season proved to be one he would rather forget as he finished the year with a 4-19 record for the last-placed club.
Nevertheless, he showed some promise and was picked up by the Syracuse Chiefs of the International League the following season. The bespectacled right-hander remained with the Chiefs for the next three seasons and made his major league debut with the Cincinnati Reds on June 18, 1944. His performance was a welcome surprise for the Reds, and in 20 games he was 6-4 with a 2.80 ERA.
On several occasions Konstanty had tried for a naval commission, but was rejected because of his eyesight. He eventually entered service with the Navy on April 13, 1945, and while awaiting his induction he had been working as an athletic coach at Central School in Worcester, New York.
Konstanty served at Sampson Naval Training Center in New York. He regularly played baseball for the Sampson team throughout the summer.
Konstanty was discharged on February 25, 1946 and joined the Reds for spring training. He was traded to the Boston Braves two months later and spent much of the season with Toronto of the International League. He was purchased by the Phillies in 1948 and came into his own in 1950. The 33-year-old made a league-leading 74 relief appearances for a 16-7 record and 2.66 ERA, to lead the "Whizz Kids" to the World Series and earn himself the National League Most Valuable Player Award.
Konstanty couldn't repeat in 1951. He slumped to 4-11 and was 5-3 in 1951. He improved in 1953 with a 14-10 record, and was obtained by the New York Yankees in 1954. His last shining moment in the majors was with Yankees in 1955 when he was 7-2 in 45 relief appearances with a 2.32 ERA.
After baseball, Konstanty was a scout and coach for the New York Yankees before leaving the game to run a sporting goods store in Worcester. In 1968, he became the athletic director at Hartwick College in Oneonta, New York, and held that position until 1974.
Jim Konstanty, who lived in Worcester, New York, succumbed to cancer in Oneonta, New York on June 11, 1976. He was 59 years old.
Created February 18, 2008.