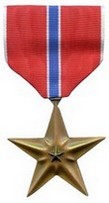 Don Kolloway
Date and Place of Birth: August 4, 1918 Posen, Illinois
Died: June 30, 1994 Blue Island, Illinois
Baseball Experience: Major League
Position: Second Base
Rank: Unknown
Military Unit: 29th Infantry Division US Army
Area Served: European Theater of Operations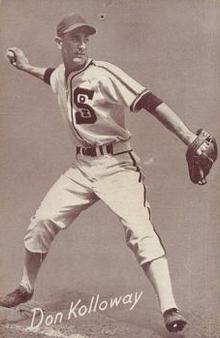 Donald M "Don" Kolloway was born on August 4, 1918 in Posen, Illinois. He signed with Rayne of the Evangeline League in 1938 and batted .313 with 87 RBIs his rookie year.
He advanced to Oklahoma City of the Texas League in 1939 and joined the Chicago White Sox in September 1940, making his major league debut on the 16th.
The 6-foot-3 second baseman played 71 games for the White Sox in 1941, platooning with Bill Knickerbocker, and a highlight of that season was on June 28, when he stole four bases, including second, third, and home, and hit two home runs and a single in a 6-4 win over the Indians. He became Chicago's starting second baseman in 1942 appearing in 147 games, batting .273 and stealing 16 bases.
Kolloway played 85 games with the White Sox in 1943, before entering military service with the Army on July 2, 1943. He served at Camp Grant, Illinois, and explained a typical day in the Army to The Sporting News in September 1943. "After a four-hour hike with a full pack, we went through an hour of calisthenics. And then did we get to go to our barracks to rest? We did not. We went to the mess hall to scrub for two hours.
"Wonder why I ever thought playing a double-header at second base was hard work?"
Kolloway was later assigned to the 29th Infantry Division and saw combat in Europe, where he was awarded the Bronze Star. When the war ended in Europe, he played for 29th Infantry Division Blue and Grays ball team - Seventh Army Champions.
Kolloway was discharged from service on March 15, 1946. He joined the White Sox for spring training, but the team was sceptical about whether he could still play after being away for almost three years and facing combat. They even experimented with Chet Hajduk – another returning vet - at second base just in case. But the 27-year-old Kolloway proved he could still play and appeared in 123 games for a .280 batting average (as it turned out Hajduk was the one who never played again in the majors. He was sent to Shreveport of the Texas League in 1946).
Kolloway remained the White Sox starting second baseman until he was traded to the Tigers in May 1949. The Tigers dealt him to the Athletics in January 1953 and he was released in May of that year. Kolloway played for Portland of the Pacific Coast League the remainder of that year and the following season.
After his baseball career ended, he owned and operated a tavern called Kolloway's in Blue Island, Illinois from 1956 to 1969. Later he worked in voter registration for Cook County. Don Kolloway passed away on June 30, 1994 at St Francis Regional Hospital in Blue Island. He was 75 and is buried at Cedar Park Cemetery in Blue Island.
Created February 14, 2008.
Copyright © 2008 Gary Bedingfield (Baseball in Wartime). All Rights Reserved.