Ted Kleinhans
Date and Place of Birth: April 8, 1899 Deer Park, Wisconsin
Died: July 24, 1985 Redington Beach, Florida
Baseball Experience: Major League
Position: Pitcher
Rank: Major
Military Unit: US Army
Area Served: European Theater of Operations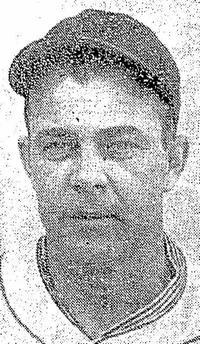 Theodore O "Ted" Kleinhans was born on April 8, 1899 in Deer Park, Wisconsin. He grew up in Cleveland, Ohio, and his father was a Lutheran minister. Ted planned to follow in his father's footsteps, enrolling as a theological student at Concordia College at Fort Wayne. But then came the First World War and he enlisted in the Ohio National Guard in May 1917. He spent 14 months in service as a sergeant with the 145th Infantry Regiment of the 37th Division. Kleinhans was involved in the Meuse-Argonne campaign in France and was wounded in action.
It was while in service that Kleinhans developed as a pitcher for the 145th Infantry team. When he was mustered out in May 1919, he began playing for semi-pro teams and continued until trying his hand at organized baseball in 1928, by which time he was 29 years old.
Kleinhans signed with the Johnstown Johnnies of the Middle-Atlantic League in late 1928, and was 4-6 in 13 games. He was with Johnstown and the Cumberland Colts in the same league in 1929, and had a13-8 record in 48 games. Kleinhans pitched for the Terre Haute Tots and the Bloomington Cubs in the Three-I in 1930 where he was 14-15. He split time between Danville, Columbus and Greensboro in 1931. With the Greensboro Patriots of the Piedmont League in 1932 he was 21-8 and led the league with 226 strije outs. Kleinhans was 19-13 with Atlanta in 1933, and the Chicago Cubs purchased him at the end of the season but traded him to the Phillies in November 1933.
Ted Kleinhans was a 35-year-old rookie when he made his major league debut with the Philadelphia Phillies on April 20, 1934, although record books shaved five years of his age at the time. He made five relief appearances for the Phillies and was on the move again when he was traded to the Cincinnati Reds in May. He pitched in 24 games for the Reds, mostly in relief, and had a 2-6 record and 5.74 ERA.
Kleinhans was traded to the New York Yankees in 1935 and played at Newark in the International League where he was 17-8. In 1936, he was again with Newark but made 19 relief appearances for the Yankees. He was 1-1 with a 5.83 ERA for New York.
"When I think of my greatest thrill I have to go back to 1936 when I won my first game for the New York Yankees," Kleinhans told the Syracuse Herald-Journal on March 21, 1941. "Playing Detroit at Yankee Stadium, we were leading 3-2. in the eighth inning. Pete Fox singled and Mickey Cochrane did likewise, off pitcher Hadley. There was a man on first and third, nobody out, and Charles Gehringer coming up to bat.
"Gehringer, being a left handed batter, and I, being in the bullpen, was beckoned by Manager Joe McCarthy to relieve and stop the rally. Charley hit the first pitch, a fly ball to Joe DiMaggio. who caught the ball. Fox 'tagged up' at third base, and sprinted for home after the catch. DiMaggio threw a 'strike' to Catcher Dickey, who nipped Fox at the plate. Cochane went to second on the throw to the plate, and put the tieing run in scoring position. Goslin came to bat, and rolled out weakly to. Lazzeri at second base, retiring the side. I got Burns, Walker and Rogell in order in the ninth, and received credit for my first Yankee victory."
He was at Kansas City in 1937 and had a 15-9 record before being sold back to Cincinnati in September and made seven appearances for the Reds before the season finished. He started three games, had a 1-2 record and an ERA of 2.30.
Although Kleinhans made a single-inning appearance for the Reds in 1938, his pitching between then and 1941 was done with the Syracuse Chiefs in the International League, where he quickly became a fan favorite.
On May 21, 1938, Kleinhans beat Newark, 4-3, and struck out 14 batters for the second time. He and Lefty Grove were the only two International League pitchers to have achieved that feat at the time. He was 16-12 in 1938, and was 19-12 with the Chiefs in 1939 and 12-17 the following year. In 1941, at the age of 42, and into his fourth season with Syracuse, he began to lose his effectiveness and was released on July 14. He was the first player the fans selected for the Syracuse Chiefs Honor Roll in 1952.
Kleinhans received an offer from Kansas City of the American Association but chose to stay in Syracuse where he was studying for a degree in physical education at Syracuse University. In August 1941, he began pitching for the Homer Merchants in the Central New York Amateur Baseball League. In 1942, he became the Marchants' manager and coach in addition to his pitching duties, and was working as a district manager of circulation for the Syracuse Herald-Journal.
Following Pearl Harbor, Kleinhans was desperate to again serve his country but age was against him. However, when the 52nd General Hospital, the unit affiliated with the Syracuse University College of Medicine was formed he was accepted for duty in medical administration.
In September 1942, he reported to Camp Livingston, Louisiana with the 52nd General Hospital. On November 14, the hospital was relocated to Camp Kilmer, New Jersey for additional training before it sailed for England on January 6, 1943. After a week on the high seas in peril of U-boats, the 52nd debarked in Scotland and travelled by train to temporary quarters in Somerset. Gradually, through the spring of that year, the unit moved into its permanent quarters in Wolverly, near Kidderminster in Worcestershire. The first patient was admitted on April 15, 1943.
One of Captain Kleinhans' early responsibilities in England was to stop food wastage at the hospital. "Right now saving food over here is much more important than saving base hits," he told the Syracuse Herald-Journal on May 31, 1943. "Food shipped over here all takes up valuable space and costs sailors' lives. We impress that on our men and have taught them not to take more food than they can eat. If they underestimate their appetites they can always come back for more.
"As to baseball, I feel that it has a very definite place in our war effort, for it gives the people needed relaxation. Perhaps the teams won't be quite up to the standards of past years, but they'll be good. Right now, though, I'm more interested in feeding a large group of hungry soldiers."
Kleinhans pitched for the 52nd General Hospital Chiefs, and estimated that the 22 games played by the team in 1943 were watched by a total of 25,000 spectators and raised $12,500 for various charities.
The first casualties from Normandy arrived the second week of June 1944, and from that time until early 1945 the beds at the 52nd General Hospital were filled nearly to capacity. The busiest time was December 1944, when the Nazis almost stopped the Allied advance at the Battle of the Bulge. But the load steadily lightened in 1945, so that by V-E Day there were only 300 patients in care. Altogether the 52nd treated more than 21,000 patients.
Kleinhans returned to playing baseball in England after the German surrender and he was the starting pitcher in the UK servicemen all-star game held in June 1945.
"He was a superb gentleman," Dr Max Kutzer who served with Kleinhans at the 52nd General Hospital told the Syracuse Herald-Journal on July 24, 1985, "a great leader, and an inspiration to anyone who was associated with him – particularly his athletes on his baseball teams."
The 52nd General Hospital returned to the United States in September 1945. On December 28 Major Kleinhans was discharged from the Army at Fort Dix Separation Center in New York.
Under the GI Bill of Rights he returned to Syracuse University to complete his physical education degree which he had begun in 1941. He completed on June 2, 1947. He also returned to pitch for the Homer Merchants who were now in the Southern Tier Semi-Pro League. His first game was against Ithaca on May 5 and he won 3 to 1. Homer were pennant winners in 1946. Kleinhans was 47 years old at the time.
From 1947 to 1965, Kleinhans coached the baseball team at Syracuse University. In 1961, he took the Orangemen to the College World Series in Omaha, Nebraska, where they defeated Northern Colorado and Western Michigan before being beaten in the semi-finals by Oklahoma State.
Ted Kleinhans retired to Florida in the late 1960s, where he enjoyed golfing and fishing. He passed away on July 24, 1985 in Redington Beach, Florida. He was 86 years old and is buried at the Serenity Gardens Memorial Park in Largo, Florida.
Created June 18, 2007.
Copyright © 2007 Gary Bedingfield (Baseball in Wartime). All Rights Reserved.