The Birdhouse @ www.thestlcardinals.com the online leader for exclusive, objective and independent coverage of the St. Louis Cardinals, providing the ultimate fan experience through community interaction with our team of experts, writers and reporters.
Ray Mileur, Founder & Publisher

Lou Klein
Date and Place of Birth: October 22, 1918 New Orleans, Louisiana
Died: June 20, 1976 Metairie, Louisiana
Baseball Experience: Major League
Position: Infield
Rank: Specialist 1st Class
Military Unit: US Coast Guard
Area Served: United States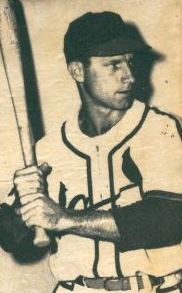 Louis F "Lou" Klein began his pro career with Daytona Beach of the Florida State League in 1940, batting .348 with 81 RBIs. He joined the Cardinals in 1943 and batted .287 in his rookie season.
The following year, Klein joined the Coast Guard and served at Curtis Bay, Maryland and St Augustine, Florida where he also played baseball.
Klein was back with the Cardinals in 1946 but jumped to the outlaw Mexican League and was banned by Commissioner Happy Chandler. He returned to the Cardinals in 1949 and later played for the Indians and Athletics.
He played for his hometown Pelicans in 1953 and later coached the Chicago Cubs, enjoying a brief stint as manager.
Lou Klein passed away in Metairie, Louisiana on June 20, 1976. He was 57.
Created November 17, 2007.
Copyright © 2008 Gary Bedingfield (Baseball in Wartime). All Rights Reserved.