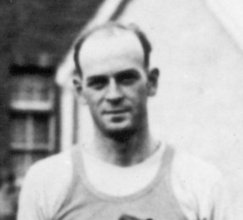 Robert E. "Bob" Keller was born in Hagerstown, Maryland on December 12, 1916. He played second base on the Hagerstown High School team and was playing with the Mount Briar Hornets of the Washington County League when he was signed in July 1935 by baseball scout Poke Whalen. Keller joined the Harrisburg Senators of the Class A New York-Penn League in 1935, playing 19 games and batting .310. In his last game at Wilkes-Barre, he hit a home run that sailed out of the park, clearing the fence 360 feet from home plate. He returned to Hagerstown in September and finished the season with the local Winchester Park Association team.
In 1936 he joined the Norfolk Elks of the Class D Nebraska State League and hit .277 in 61 games. The Americus Cardinals of the Class D Georgia-Florida League claimed his services in 1937 and he was the only player on the squad to appear in every scheduled game, batting .283 with nine home runs.
In 1938, Keller was with the Orlando Senators of the Class D Florida State League where he played 139 games and batted .270. the following year saw him split the season between Orlando and the Ashland Colonels of the Class D Mountain State League. He hit .314 in 50 games with Orlando and an impressive .369 in 69 games with the Colonels.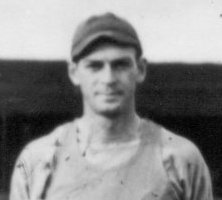 In November 1940, Keller entered military service with the Army. Private Keller served with the 116th Infantry Regiment in England where he played ball with the 116th Yankees - ETO champions in 1943. The team were underdogs in the ETO tournament and defeated a strong Eighth Air Force team in a thrilling final to clinch the championship. The 116th also achieved this championship without having other teams to play against prior to the tournament, despite all other teams involved being in structured league setups. "There was a dog track near our barracks and we set up a diamond in the middle, " recalls Keller. "That's where we used to train."
"Our commanding officer sent us a nice thank you letter," Keller explained. "He also gave us a plaque with our names and ETO Champs 1943 on it and seven days leave."
Keller served with the 116th throughout the ETo campaign and across Europe until the defeat of Germany in May 1945.
"Bob Keller, one of the best prospects ever to be developed in the Washington County League, a natural hitter and fielder, has returned to these shores after serving thru the entire European theater of war," announced the Hagerstown Morning Herald in October 1945. "Keller arrived on the Queen Elizabeth and is home on a furlough before getting his honourable discharge. Keller doesn't know just what the army might have taken out of him but he is anxious to give baseball another fling and here's wishing him the best of luck."
By April 1946, Keller was working out with the Hagerstown Owls of the Interstate League in an effort to get back into professional baseball. "Since early spring," wrote the
Hagerstown Morning Herald
in April 1946," Keller has been doing quite a bit of outside work including running and starting and if his underpinning is OK there is no question as to his ability to follow the ball."
At 29, and having been in military service for more than five years, it was an almost impossible task. "I tried to play," Keller said. "I could still hit but my legs gave out on me." He continued to play local semi-pro baseball while looking for employment. "You couldn't buy a job, but my sister owned a restaurant and I went to work for her."
Thanks to Robert Keller for help with his biography.

Created May 21, 2007. Updated May 5, 2009.