Chet Kehn
Date and Place of Birth: October 30, 1921 San Diego, California
Died: April 5, 1984 San Diego, California
Baseball Experience: Major League
Position: Pitcher
Rank: Private First-Class
Military Unit: US Army Air Force
Area Served: Pacific Theater of Operations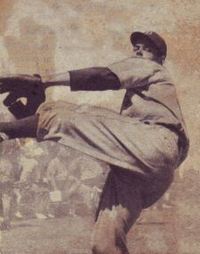 Chester L "Chet" Kehn was born on October 30, 1921 in
San Diego, California
. He signed with the Brooklyn Dodgers in 1939 and played for
Dayton
of the Mid-Atlantic League that year, posting a 3-4 record and 5.82 ERA.
He was again with Dayton in 1940 and also pitched with Elmira of the Eastern League. In 1941, Kehn joined Montreal of the International League and together with Ed Head was the ace of the pitching staff with a 16-11 record and 3.26 ERA. He made his major league debut with the Dodgers on April 30, 1942 and made three appearances before returning to Montreal where he was 8-8.
Kehn entered military service in March 1943. He served with the Army Air Force and was in the Pacific in 1945. In July 1945, Private First-Class Kehn was with the 73rd Bomb Wing Bombers on the 20th Air Force tour of Pacific Islands. The Bombers were based at Isley Field, Saipan and played round-robin competitions against Birdie Tebbett's 58th Bomb Wing and Lew Riggs 313th Bomb Wing. The Bombers, with a line-up that featured Sid Hudson, Tex Hughson, Stan Rojek and Mike McCormick, won nine of 11 games on the Marianas Island leg of the tour.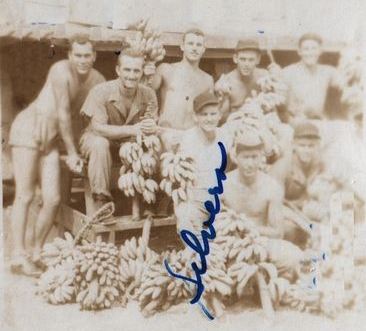 Bananas w

ere plentiful on Saipan for the 73rd Bombers.

(Back row, left to right): Tex Hughson, Dario Lodigiani, Ferris Fain,

Mike McCormick, unknown.

(Front row, left to right): Charlie Silvera, unknown, Chet Kehn.
Kehn returned to the United States in November 1945. He was back with the Dodgers' organization in 1946 and had a 12-7 record with Montreal that year. In 1947, he was 9-9 with Montreal and spent the next two seasons with Santa Barbara of the California League. Kehn never made it back to the majors but continued to pitch in the minor leagues until 1950.
Chet Kehn passed away in San Diego, California on April 5, 1984. He was 62.
Created May 14, 2008.
Copyright © 2008 Gary Bedingfield (Baseball in Wartime). All Rights Reserved.