The Birdhouse @ www.thestlcardinals.com the online leader for exclusive, objective and independent coverage of the St. Louis Cardinals, providing the ultimate fan experience through community interaction with our team of experts, writers and reporters.
Ray Mileur, Founder & Publisher

Al Jurisich
Date and Place of Birth: August 25, 1921 New Orleans, Louisiana
Died: November 3, 1981 New Orleans, Louisiana
Baseball Experience: Major League
Position: Pitcher
Rank: Unknown
Military Unit: US Coast Guard
Area Served: United States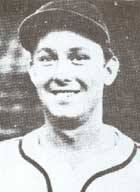 Alvin J "Al" Jurisich was with the Pelicans from 1939 to 1942. He entered military service with the Coast Guard in August 1942 and was stationed in New Orleans.
Discharged from service in 1944, he joined the St Louis Cardinals primarily as a relief pitcher. He was purchased by the Phillies in 1946 and joined the San Diego Padres in the Pacific Coast League in 1948.
Jurisich enjoyed four seasons with the Padres and retired from baseball after the 1951 season.
Al Jurisich passed away in New Orleans on November 3, 1981. He was 60.
Created November 17, 2007.
Copyright © 2008 Gary Bedingfield (Baseball in Wartime). All Rights Reserved.