Walt Judnich is a prime example of a player who was at the top of his game before military service, only to find his skills were diminished when he returned.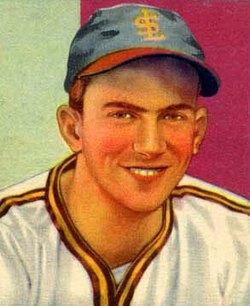 Walter F "Walt" Judnich was born on January 24, 1917 in San Francisco, California. As a youngster, he played American Legion ball and signed with the New York Yankees in 1935. Sent to Akron of the Middle Atlantic League his rookie year, Judnich, originally a first baseman who later switched to the outfield, batted .274 with 61 RBIs.
He played for Norfolk of the Piedmont League in 1936, batted .303 with 24 home runs and advanced to Oakland of the Pacific Coast League. Judnich was with Kansas City (.273, 22 HRs and 104 RBIs) in 1938, and Newark (.284, 21 HRs and 105 RBIs) in 1939. With an abundance of outfielders, the Yankee organization sold Judnich to the St Louis Browns in 1940, and he had an exceptional rookie season, batting .303 with 24 home runs in 137 games.
As the Browns centerfielder, Judnich had his best offensive season in 1942, when he batted .313 and drove in 82 runs. At 25, he was at the height of his game, but military service beckoned on March 3, 1943.
Judnich was stationed at McClellan Field with the Army Air Force and was a star player for the McClellan Field Commanders ball team in the Central California Servicemen's League.
On June 5, 1943, Judnich played for the Army all-stars in an Army-Navy benefit game at Seals Stadium, San Francisco, that the Navy won, 7-to-6. On August 21, 1943, he played for the Service All-Stars against a combined Hollywood Stars and Los Angeles Angels team. The servicemen won, 8-to-2, and the game raised an estimated $25,000 to purchase recreational equipment for the armed forces.

By October 1943, Judnich had qualified as a marksman and had been promoted to corporal. "Although Army life is altogether different from training in a baseball camp, I believe I am gradually getting 'on the beam' as a soldier," he told The Sporting News on October 21. "I can truthfully say that I like Army life. As far as making a career out of it is concerned, that is something else. I plan to continue in baseball after the war is won."

Along with Joe DiMaggio, Judnich was assigned to Hickam Field in Honolulu in 1944, and became a mainstay and all-star selection with the Seventh Air Force team of the Central Pacific League.

He played in the Army-Navy World Series in September 1944, was with the Bellows Field Flyers team in Honolulu in 1945 and played for an American League all-star team on Tinian in September 1945.

Judnich was discharged from military service at Camp Beale, California on November 30, 1945. He was 29 years old when he reported to spring training with the Browns in 1946 and had been away from the major league game for three years. He was never able to regain his pre-war form. After batting .262 and .258 in 1946 and 1947, he was traded to the Indians and joined the Pirates a year later.

Judnich played in the Pacific Coast League during the 1950s with San Francisco, Seattle and Portland, enjoying three seasons where he had 100-plus RBIs.

Walt Judnich was just 54 when he passed away from liver failure on July 12, 1971, in Glendale, California