Go on, why not sponsor this page for $5.00 and have your own message appear in this space.


Click here for details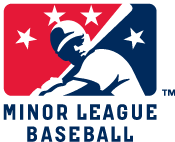 Ed Jolda
Date and Place of Birth:
June 11, 1921 Webster, Massachusetts
Died:
December 29, 1995 Worcester, Massachusetts
Baseball Experience: Minor League
Position: Catcher
Rank: Sergeant
Military Unit:
Company E, 390th Infantry Regiment, 98th Infantry Division US Army
Area Served:
Pacific Theater of Operations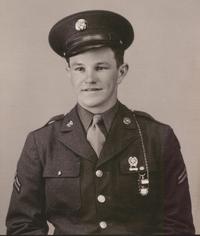 Edward W "Ed" Jolda was born in Webster, Massachusetts on June 11, 1921. He was 21 when drafted to serve in World War II. Jolda entered the service on October 23, 1942 at Fort Devens, Massachusetts and was assigned to Company E of the 390th Infantry Regiment, 98th Infantry Division at Camp Breckinridge, Kentucky.
Camp Breckinridge, 16 miles south of Henderson, had only been activated in July 1942 as an infantry training camp, and the 98th Division - nicknamed the "Iroquois Division" and assigned draftees from New York and New England - had been activated in a simple ceremony at Breckinridge on September 15 of that year.
The 98th Division remained at Breckinridge throughout the winter of 1942 and summer of 1943, allowing Jolda, who attained the rank of corporal, plenty of opportunity to play baseball and other sports outside his military duties.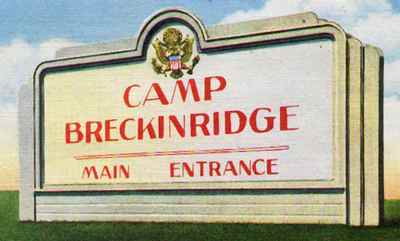 The 98th Division took part in the Tennessee Maneuvers around Camp Forrest in the fall of 1943, and then trained at Camp Rucker, Alabama, in preparation for overseas deployment.
In March 1944, they were on the move again and arrived in Hawaii on April 19, given the mission of defending Kauai and Maui. Later the division was made responsible for the defense of Oahu.
Jolda, now a sergeant, had another year of enjoying sports in the beautiful surroundings of the Hawaiian Islands, but in May 1945, the division began intensive training in preparation for its role in the invasion of Japan. They were intended to be one of thirteen divisions to invade Japan on November 1, 1945. Specifically their target was the Osaka area of Kyushu. However, the war ended before the division could leave Hawaii.
Following the Japanese surrender the division was sent to Japan to occupy the Osaka area in September 1945. Sports were high on the agenda for the occupying forces, an intense athletic program allowed servicemen to participate in all types of sports, the Japanese professional baseball league - disbanded since mid-1944 - was encouraged and helped to restart, and the 98th Division staged a football game against the 33rd Division at Koshien Stadium (home of Japanese baseball's Hanshin Tigers). It was claimed at the time to be the first ever American football game on Japanese soil with "all the trimmings of a big college game" and was won by the 98th Division, 20 to 7.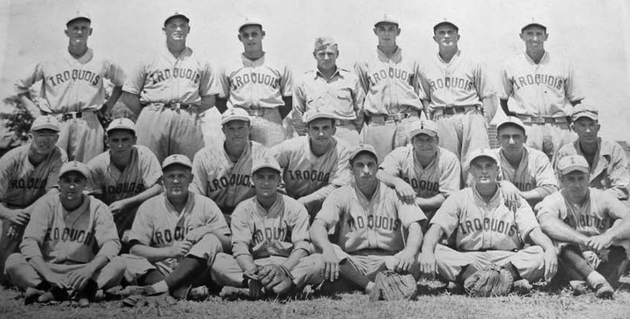 98th Infantry Division Iroquois baseball team in Hawaii, 1944.
Back row, left to right: George Cave, Jim Voiselle, Earnest Bowler, Lt Col Suggs, Charles Marble, Roy Bridges, Pietranera.
Middle row, left to right: Lefty Berry, Joe Niro, Ed Jolda, Matt Usciar, Bob Ogle, Johnny Duda, Norman Sym?
Front row, left to right: ? Gioffrida, Doc ?, Frank Celona, John Kallas, Elbert Owen, Ed Fleck
In February 1946, the 98th Division was inactivated while in Japan. Jolda, 25, returned home to Massachusetts and enrolled at Nichols Junior College to study business on the GI Bill. Jolda played third base and pitched for the college baseball team in 1946. The Bisons won 11 of 14 games including an 8-4 win against Harvard. In 1947, the power-hitting Jolda switched to catcher and captained the Bisons to further success with a five-game winning streak and ended the season with nine wins, three losses and two tied games.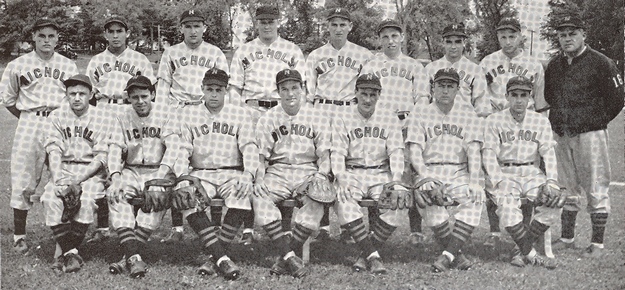 Nichols Junior College baseball team in 1947. Ed Jolda is front row, fourth left. John Stefanik is front row, sixth left.
In the summer of 1947, Jolda and Nichols teammate John Stefanik, who was also from Webster, Massachusetts, joined the newly formed Keene (NH) Bluejays in the semi-pro Northern League. Following on from their success with the Bluejays Jolda and Stefanik were both signed to play professional baseball for the Waterbury Timers, an independently operated team in the Class B Colonial League in 1948.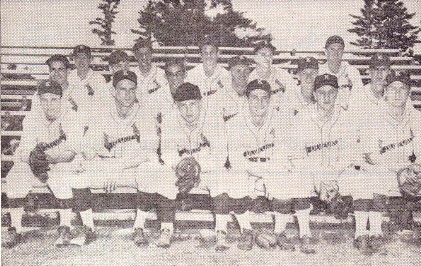 The Keene Bluejays in 1947. Ed Jolda is back row, third left. John Stefanik is front row, first right.
On June 11, 1948, Jolda gave a fine demonstration of his versatility as a player, switching from the catching role to the mound. "After his manager, Mike Kash, gave up three runs in the first inning, and had two out," wrote The Sporting News on June 23, 1948, "Jolda took off his harness and went to the mound, blanking Port Chester on seven hits the rest of the way for a 9 to 3 victory." Jolda also got two of Waterbury's eight hits that day.
Waterbury general manager, Henry "Duke" DelPo, a promoter extraordinaire, was one of the first minor league executives in the country to have theme nights at the ballpark. One of his most prolific stunts was staged on August 25, 1948 at the team's Municipal Stadium. DelPo planned to have his catchers - Jolda and Dick Pistarelli - attempt to break the world's altitude record for catching a baseball which had been set at 708 feet by Frankie Pytlak of the Cleveland Indians who caught a baseball thrown from the Cleveland Terminal Tower in 1938.
Amid great publicity that attracted a crows of 1,200 to the stadium on August 22, the catcher donned football helmets and shoulder pads to attempt to catch the baseballs that were thrown from a helicopter circling above. While Jolda held on to a ball dropped from 550 feet, earning himself a $25 savings bond, Pistarelli missed one from what would have been a record 725 feet. The ball struck Pistarelli in the shoulder and landed DelPo with a $300 medical bill.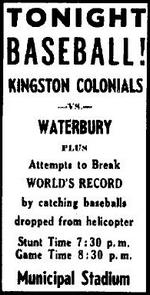 Kingston Daily Freeman August 25, 1948
The Waterbury Timers finished the 1948 regular season in third place with 65 wins, 68 losses and a place in the league playoffs. Jolda played 106 games with two home runs, 46 RBIs and a .247 batting average.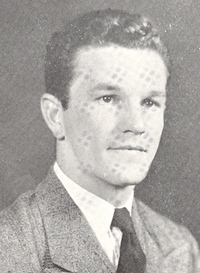 Facing the Port Chester Clippers in the first playoff game on September 8, Jolda had possibly the best game of his career figuring in all the Timers' run making in their 4-2 win. He singled the first run across in the fifth and later stole home. Then, in the ninth, he singled to drive in two more runs. However, the Timers' success was short lived. They were defeated by Port Chester in the next four games to end their season.
In 1949, DelPo further captured national media attention by signing Bert Shepard for $3,500 to pitch and manage the Timers. It was a huge sum of money and almost equaled the monthly payroll of the team but DelPo believed it would bring hordes of fans to Municipal Stadium. Shepard was a war hero who lost his leg when his fighter plane was shot down over Germany in 1944. He signed with the Washington Senators in 1945 and, with a prosthetic leg in place, pitched in a major league game against the Red Sox on August 5, 1945. Unfortunately, the plan failed and Shepard was released in July.
Jolda had been placed on Waterbury's retired list at the start of the 1949 season and did not appear in any games. He was traded to the Goldsboro Goldbugs of the Coastal Plain League for pitcher Steve Adametz in July 1949, but failed to report and instead returned home to Webster. He married his hometown sweetheart, Irene Geppert, and had planned to go to umpire school in Florida but opted for a job as an upholsterer at Ethan Allen Interiors in Webster. Jolda remained with the company until he retired.
Irene passed away in 1993, and Ed Jolda, an avid lifelong fan of local, college and national sport, passed away at St Vincent Hospital on December 29, 1995. He was 74 years old. Jolda was survived by three sisters, two sons - Robert and Richard - and a daughter, Debra.
Thanks to Deb Jolda for much of the information contained in her father's biography. Thanks also to Jim Douglas of the Conant Library at Nichols College for information and photos of the baseball team, and thanks to Bill Swank for supplying Jolda's 1948 Waterbury baseball statistics.
Created July 21, 2007. Updated July 23, 2007.
Copyright © 2007 Gary Bedingfield (Baseball in Wartime). All Rights Reserved.