Rankin Johnson Jr
Date and Place of Birth: March 1, 1917 Hayden, Arizona
Died: February 11, 2006 Williamsport, Pennsylvania
Baseball Experience: Major League
Position: Pitcher
Rank: Petty Officer, First Class
Military Unit: US Navy
Area Served: Pacific Theater of Operations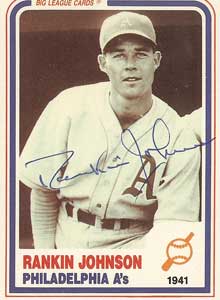 Adam R "Rankin" Johnson Jr, was born on March 1, 1917 in Hayden, Arizona. The son of a former major league pitcher, Johnson played very briefly for various minor league teams between 1935 and 1939. But his career really blossomed with the Midland Cowboys of the West Texas-New Mexico League in 1940 when he hurled 33 games and was 15-14 with a 4.02 ERA.
He joined the Philadelphia Athletics in 1941 and made seven relief appearances for a 1-0 record and 3.60 ERA before being sent to Wilmington of the Interstate League for the remainder of the season. His major league win came against the Washington Senators on April 23, when he relieved Nelson Potter in the fifth with the Athletics trailing 6-1. His team then exploded for nine runs in the sixth earning him the win although he only pitched a single inning.
Johnson entered military service with the Navy the following year. As a yeoman he served aboard the troop transport/cargo ship William Ward Burrows (AP-6) and participated in Solomons campaign. In 1944, he was assigned to the Pearl Harbor Submarine Base in Hawaii where he regularly played baseball with the Pearl Harbor Submarine Base Dolphins. Johnson also played for the Navy in the Service World Series in 1944.
Johnson remained at Pearl Harbor through 1945 and was discharged as a Petty Officer, First-Class. He returned to the Athletics in the spring of 1946 but the 29-year-old was released in March. He continued to play in the minors for a couple of seasons with Williamsport and Chattanooga, and later became a business manager with the Williamsport club.
Rankin Johnson passed away on February 11, 2006 in Williamsport, Pennsylvania. He was 88.
Created April 18, 2008.
Copyright © 2008 Gary Bedingfield (Baseball in Wartime). All Rights Reserved.