Billy Johnson
Date and Place of Birth: August 30, 1918 Montclair, New Jersey
Died: June 20, 2006 Augusta, Georgia
Baseball Experience: Major League
Position: Third Base
Rank: Unknown
Military Unit: 87th Infantry Division US Army
Area Served: European Theater of Operations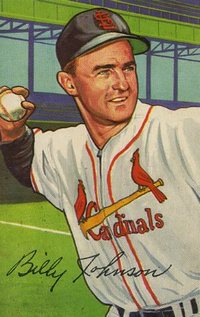 William R "Billy" Johnson was born in Montclair, New Jersey on August 30, 1918. He broke into professional baseball with the Butler Yankees in the Penn State Association in 1936. The following year he batted .356 with 11 home runs and 91 RBIs for Butler and earned promotion to Augusta of the South Atlantic League for 1938.

Johnson remained with the Augusta team for three seasons, fine-tuning his game and made the town his home. He was moved up to Newark of the International League in 1942 and made a sensational debut with the Yankees in 1943, earning Rookie of the Year honors while batting .280 with 94 RBIs and finishing fourth in the MVP balot.

Johnson worked in a war plant job during the winter months and passed his pre-induction physical examination at Fort McPherson, Georgia on February 8, 1944. He entered service with the US Army on June 8, and served in Europe during 1944 and 1945 as part of an 81mm mortar crew.

In August 1945, he returned home and enjoyed a 40-day furlough with his family in Augusta before returning to Fort Benning, Georgia where he played ball for the Infantry School League All-Stars. In late September the All-Stars advanced to the "Little Word Series" and in the first game of the series Johnson tripled with the bases loaded in a seven-run second inning against the 3rd STR Rifles before 7,500 at Gowdy Field. The All-Stars erased the Rifles in three games and went on to defeat the Combos to claim the title.
Johnson returned to the Yankees in 1946 and was an All-Star third baseman in 1947. He appeared in the 1947, 1949 and 1950 World Series and was traded to the Cardinals in 1951. He played his last season in the majors with St Louis in 1953 and retired from the game at the end of the year.
Johnson worked for the Graniteville Company as a shipping supervisor and retired after nearly 30 years of service. Billy Johnson passed away on June 20, 2006 in Augusta, Georgia. He was 87.
Thanks to Lamar Garrard for suggesting the inclusion of Bill Johnson to me at the Duty, Honor, Country: Baseball in Wartime conference in New Orleans.
Created November 14, 2007. Updated December 7, 2009.
Copyright © 2007 Gary Bedingfield (Baseball in Wartime). All Rights Reserved.