Date and Place of Birth: September 6, 1924 West Columbia, South Carolina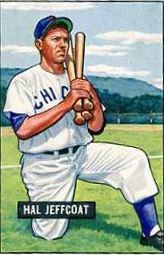 Harold B "Hal" Jeffcoat was born on September 6, 1924 in West Columbia, South Carolina. He was 18 years old when he entered military service with the Army at Fort Jackson, South Carolina on June 4, 1943.
Jeffcoat was in combat with the 21st Engineer Regiment of the 101st Airborne Division in the Mediterranean. While in Italy, he met his wife of 61 years, Valma Viola Ala of Gloucester, Massachusetts, who was serving in the Women' s Auxiliary Army Corps (WAAC).
Jeffcoat left the service at the end of 1945 and followed in his brother George's footsteps by signing a professional baseball contract with the Chicago Cub's organization. George had pitched professionally since 1935 and had brief stints with Dodgers and Braves. Hal signed as an outfielder and the brothers briefly played together for Nashville of the Southern Association in 1946. Hal got off to a slow start with Nashville and was optioned to Shelby of the Tri-State League where he batted .294 with 15 home runs and 74 RBIs.
He was back with Nashville in 1947 and batted an outstanding .346 with 118 RBIs, earning a call-up to the Cubs for the 1948 season. Making his debut on April 20, Jeffcoat played 134 games and batted .279. His 14 sacrifice hits was second best in the National League. He remained a regular outfielder with the Cubs until 1954, when he made the switch to the mound and became one of the league's top relief pitchers. Jeffcoat made 43 appearances that season for a 5-6 record and 5.19 ERA, but in 1955 he 8-6 in 50 games with an outstanding 2.95 ERA.
The Cubs traded Jeffcoat to the Reds at the end of 1955 and he enjoyed three seasons as a starter/reliever (he was 12-13 in 1957) before he was traded to the Cardinals and concluded his major league career after the 1959 season.
Jeffcoat pitched for Seattle of the Pacific Coast League in 1960. He returned to the Cubs organization in 1961, managing the Palatka Cubs in the Florida State League. He then worked for, and later retired from, the Continental Can Company in Tampa.
Hal Jeffcoat passed away on August 30, 2007 in Tampa, Florida. He was 82 years old.