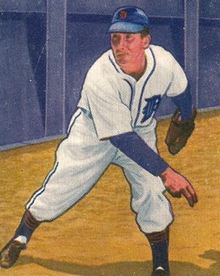 Frederick C "Fred" Hutchinson was born on August 12, 1919 in Seattle, Washington. Following an outstanding high school career as a pitcher, Hutchinson signed with the Detroit Tigers in 1938, but they pulled out of the deal when his father, a Seattle physician, demanded a $5,000 bonus. He signed instead with the Seattle Rainiers of the Pacific Coast League and promptly won 25 games and was named baseball's most valuable minor league player in the annual Sporting News poll.
Hutchinson became the focal point of some high bidding among major league clubs and it was the Tigers that finally landed him at a cost of $50,000 and four players. He made his major league debut on May 2, 1939, but was 3-6 in 13 appearances when he was farmed out to Toledo of the American Association for the remainder of the season.
H
utchinson was 3-7 for the Tigers in 1940 and spent 1941 with Buffalo of the International League where he was 26-7 with a 2.44 ERA and 171 strikeouts. Military service called on October 25, 1941. Hutchinson served with the Navy at Norfolk Naval Training Station during 1942 and 1943. He was selected for the Army-Navy game at the Polo Grounds on June 14, 1942 and the Service All-Star team that played the American League All-Stars at Cleveland on July 7, 1942. He won 23 games in 1943 and pitched against Norfolk Naval Air Station in the Navy World Series in September 1943.
Hutchinson was later based at Aiea Barracks in Hawaii and was a 14th Naval District all-star in 1945. When he was discharged on October 18, 1945, Hutchinson had attained the rank of Lieutenant-Commander. He was back with the Tigers in 1946 and was 14-11 with a 3.09 ERA. He won 18 games in 1947 and earned his only all-star selection in 1951. Arm trouble sidelined Hutchinson in 1952 he ended his playing days with a 95-71 record over 10 seasons and also batted .263. In mid-season of 1952, he replaced Red Rolfe as Tigers' manager, a position he held through 1954.
After a pennant-winning season with Seattle in 1955, Hutchinson was back managing in the majors with the Cardinals. He later managed the Reds from 1959 to 1964, guiding them to the National League championship in 1961.
Fred Hutchinson, who resigned from his managerial position with the Reds because of chest cancer, passed away on November 12, 1964 in Bradenton, Florida. He was 45.
Created April 1, 2008.