Tex Hughson
Date and Place of Birth: February 9, 1916 Buda, Texas
Died: August 6, 1993 San Marcos, Texas
Baseball Experience: Major League
Position: Pitcher
Rank: Private First Class
Military Unit: USAAF
Area Served: Pacific Theater of Operations
Major League Stats: Tex Hughson on Baseball-Almanac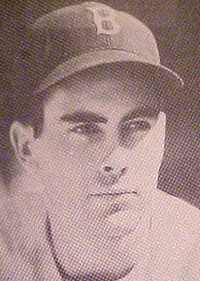 Cecil C "Tex" Hughson was born on February 9, 1916 in Buda, Texas. He attended the University of Texas at Austin before starting his professional baseball career at Moultrie in the Georgia-Florida League in 1937. Hughson was 22-7 with the Canton Terriers in the Middle-Atlantic League in 1938, moved up to Scranton in the Eastern League for 1939 and pitched for Louisville in 1940, and joined the Boston Red Sox in 1941. Hughson pitched in 12 games for Boston that year with a 5-3 record and 4.13 ERA. In 1942 he had an outstanding 22-6 record and 2.59 ERA, leading the American League in wins, complete games (22), strike outs (113) and innings pitched (281).
Hughson continued to be one of the best pitchers in baseball. His 2.26 ERA in 1944 was third best in the league and he was an all-star from 1942 to 1944 but military service was looming.
Before military service, Hughson was an aircraft spotter with the Ground Observation Corps at an American Legion lookout post atop Corey Hill in Brookline, Massachusetts. "We were signed up," he later explained, "and we would go, as volunteers, of course, maybe once or twice a week. We'd go out to this tower. We were supposed to watch and be able to alert for planes".
Hughes entered military service with the Army Air Force on August 29, 1944. He was assigned Sheppard Field in Texas and was then transferred to San Marcos Army Air Base in Texas to make the baseball team competitive in its service league for the 1945 season. However, Hughson never played a game at San Marcos. In March 1945, just about the time the service league was going to start, he was shipped out to the Pacific. Hughson played for an Army Air Force team at a fighter airfield 20 miles outside Honolulu, and later played on Saipan with the 73rd Wing Bombers.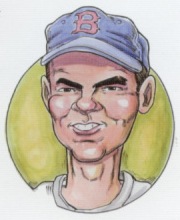 In a letter to Joe Cronin, dated in Saipan on July 20, 1945, Hughson informed his old manager that he was part of a group of players that included Sid Hudson, Mike McCormick and Taft Wright. "We were divided into three teams," Hughson wrote, "and the other two teams are on Tinian now, but one is to go to Guam as soon as they have accommodations for them there. They plan to have a Navy team on each of the three islands and to start what will be termed the Marianas League. We have been busy building our own tents to live in and our own park to play in. The ball park certainly is no beauty, but will answer the purpose. Of course, there is no grass, and the seats for 'customers' are made exclusively of bomb crates, of which we have plenty here."
"I fought World War II with a baseball bat," he said years later. "All we did was play baseball. We didn't have any duties, we just played baseball every day."
Before shipping overseas he heard that he could get an officer's commission. He wouldn't have it. He didn't think he deserved it. "There's boys been in here longer than I have that deserve it more than I do."
Hughson came back from military service in 1946 and had an excellent season with a 20-11 record and made three appearances in the World Series. He continued to pitch for the Red Sox until 1949, moving into a relief role his last two seasons. He ended his eight-season major league career with 96 wins and a 2.94 ERA.
Hughson later became very successful in real estate. Tex Hughson passed away on August 6, 1993 in San Marcos, Texas. He was 77 years old.
Created June 17, 2007.
Copyright © 2015 Gary Bedingfield (Baseball in Wartime). All Rights Reserved.